Celebrity besties end up becoming BFF goals for the rest of us common folk, mostly because of their shenanigans. Wouldn't we all want to have a fabulous night out over town, dressed to the nines, partying with our glam squad of BFFs? Well, girl besties Sonam Kapoor and Jacqueline Fernandes just had the Friday night of your dreams!
It was the Filmfare Glamour and Style Awards 2017, where the who's who of Bollytown sashayed their stylish selves on the red carpet. But I had eyes only for the gorgeous duo of Sonam Kapoor and Jacqueline Fernandes and all their crazy BFF antics!
Sonam, dressed straight out of a fairy tale in a golden Atelier Zuhra gown, and Jacqueline Fernandes, draped in a goregeous, pristine white silhouette, posed and preened for the flashbulbs on the red carpet.
What happens when you're on a night out with your BFF? You show it off to everyone on your social media list, right? Well that's what Sonam and Jacqueline did!
If Sonam's Instagram stories are any proof, these two lovelies had the time of their lives at the award show! Check it out!
1. When your BFF wins an award, you be the supportive BFF and show your love!
2. If you haven't clicked selfies with filters, are you even really BFFs?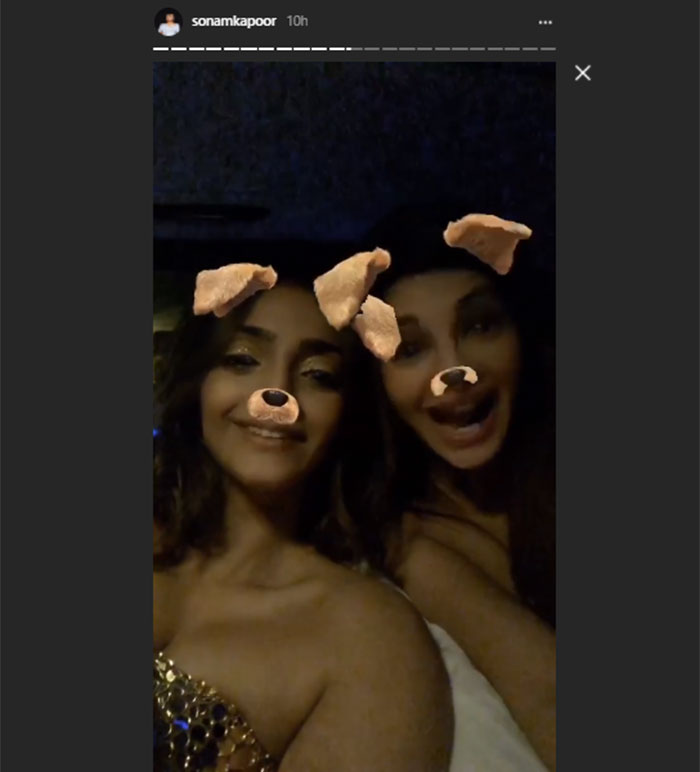 3. But then again, there are so many filters to choose from, so let's just click one more!
4. What? You thought that was all for the night? Nope, when you're famous and everyone's talking about you, you've got to give your hot date a shoutout too!
5. The mandatory throwback post that proves to the world that you were both gorgeous then, are gorgeous now, and will stay gorgeous forever!
Just when you thought Sonam Kapoor's glorious ode to her friendship with Jacqueline was over, Jacqueline posted another little love note, in the form of a victory dance boomerang!
The night brought wins to both the actresses. Jacqueline was named the Hotstepper of the Year, while Sonam bagged two awards: Digital Style Icon and the Most Stylish Star (Female).
Sonam's Instagram stories were legit fire last night. She also posted pictures with her new bestie, Begum Kareena Kapoor Khan, squashing all rumours of any catfights between the both!
The hot mama Kareena, dressed in a beautiful white outfit by Galia Lahav, got another shoutout from Veere Di Wedding co-star Sonam Kapoor!
Taimur's mommy also won the Trendsetter Of The Year award and you can clearly see why!
What can I say, I'm all for this show of camaraderie in Bollywood! Special props to the new lot of Bollywood, who're not afraid to show off their friendships with each other via candid selfies and social media posts!
Kind of like showing a big middle finger to all those who say there are no real friendships in Bollywood, right?