Sufi Malik and Anjali Chakra have been one of the internet's favourite queer couples. They have been together for 4 years now and their adorable couple's content on Instagram and YouTube makes our desi souls so happy!
View this post on Instagram
Sufi and Anjali met for the first time, in person, under the Empire State Building in New York. So when Sufi proposed to Anjali at the same place with an engagement ring, it only seemed fitting.
Anjali wore a gorgeous lavender midi dress with sparkly silver heels while Sufi wore a crisp white pant-suit as she went down on one knee.
For those who do not know, Anjali and Sufi met each other on the social media platform Tumblr and the association later shifted to Instagram. At the time, Anjali got out of the relationship with a man and was navigating through her sexuality. She had reached out to Sufi on Instagram because she didn't have a South-Asian queer community to lean on. Sufi went on to send her two podcasts, as a gesture of her support, to help her in the process.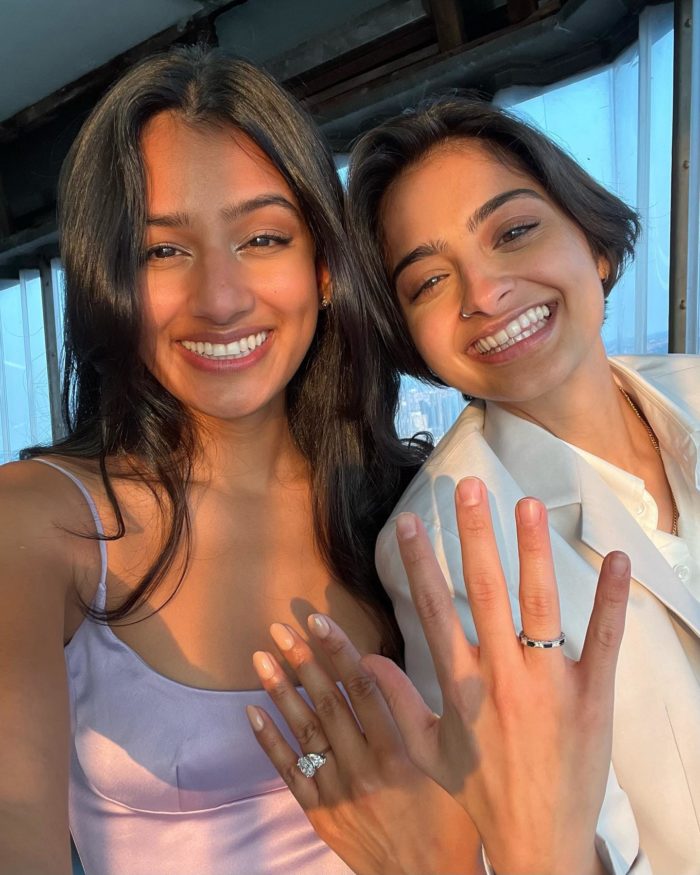 The first time they met was when Anjali went down to New York to meet another friend. She told Sufi that she would be in the city and would like to hang out. Guess what, Anjali was two hours late for their date. But they finally met under the Empire State Building, went inside to take a tour, held hands in the lift, and the rest is history. There were just fireworks everywhere.
The two have spoken about how they met and how they first said I love you to each other on YouTube. They have also posted Q&As to help their audience get to know them better. They are both based out of New York, although recently have been doing a lot of travelling.
Both Anjali and Sufi posted their engagement photos on Instagram. Anjali called it the "easiest yes" of her life.
View this post on Instagram
We wish them all the best for their journey ahead!