There are 3 kinds of people who can undeniably have illegible handwriting – doctors, a student in his/her last 2 minutes in an exam, a person trying hard to writing in a moving vehicle. Try to read each of such people's handwriting and you'll end up getting a headache.
However, in a bizarre revelation, Russian cursive handwriting looks like scribbles – like a desi person scribbling with a new ball pen on paper till the ink comes out. Don't believe me? Have a look:
I know what you're thinking. I mean, WHAT IS THIS?!
It looks like a series of 'U's. How are they even different alphabets?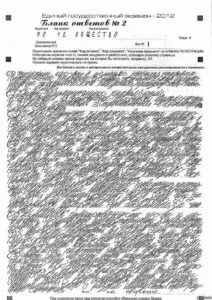 People online are baffled by Russian cursive handwriting. Many asked the same question – are all Russians doctors?
And here I thought it was a Doctor's prescription 😵 https://t.co/fZM9xCZumi

— Janhvi Singh (@Pirate_Hoon) July 27, 2020
So doctors and pharmacists are Russian? https://t.co/dNUDhpCIK3

— BrBr 🦒🏳️ (@y7r_x) July 31, 2020
This is literally my writing during exams https://t.co/Umbg9AybEA

— Shona Collins (@_shonz5728_) July 26, 2020
This is how people see my handwriting https://t.co/kFP0qBmzGK

— wow someone actually (@sally_ayas) July 30, 2020
everyone in Russia is a doctor

— Gyanesh (@GyaneshShah) July 27, 2020
@amyleighcampbel hahahaha is when we used to rush our work in school

— sash (@_sashagray) July 26, 2020
this makes me so mad for no reason

— ♡⁷ aubrey ⁹♡|CHECK📌 (@chaengie_hobi) July 26, 2020
What the heck

— Honey (@irvxa) July 26, 2020
My cursive in English looks like that 😂😂

— – (@oEphnix) July 26, 2020
Someone: *scribbles random parralel curvy lines*
Some Russian scholars: "Cyka, such revolutionizing literature!"

— ₐᵣᵤₜₒ (@mosezu_vel) July 27, 2020
I just got so angry at this that I felt a vein raise on my temple.

— Hyukleberry (@Hyukleberry) July 27, 2020
This is the handwriting of Grand Duchess Tatiana, around 1915. She also wrote 'let me know if you can read my handwriting? If not, I will try to write more clearly…' pic.twitter.com/vPP8HQwCs8

— Ella ✊ BLM (@ellasrhapsody) July 26, 2020
and this is how a doctor's notice looks in russian pic.twitter.com/xgaPft9mXg

— music,,, the joey salads ratio'er (@yung_pissbaby) July 26, 2020
hell yeah, that's us!!! here's mine, as an example. pic.twitter.com/y0f6CdrevX

— flesh canoe (@slumberalien) July 26, 2020
russian oomfs I have questions https://t.co/ZKQYTKllle

— ً (@fairypounds) July 30, 2020
How to kill my brain https://t.co/L6eCut6SO0

— Your Fairy Gothmother says TRANS RIGHTS (@NerdGirl713) July 27, 2020
This horrifies me on an inexplicably visceral level https://t.co/w4bN5FgHTf

— Morgan (@ganibear) July 27, 2020
And just like that, I feel infinitely better about my cursive… https://t.co/5812jMJ2e3

— Priyanka Joshi (@joshipriyanka_) July 26, 2020
Welcome to my nightmares https://t.co/M73P0J6b0p

— mac. (@LeftistTwix) July 26, 2020
Fun fact – the Russian language has 33 alphabets. This is how all of them look like in cursive:
For somebody who was made to practice handwriting in school till it looked like art, this must be horrifying!