It sometimes baffles me that we live in a world where technology is developing at the speed of light. Whatever we thought was far-fetched even say a couple of decades ago is now a reality. Artificial intelligence is being studied and new advancements in the field of science is happening almost every day.
And let me tell you that this one is a breakthrough.
What do you get when you combine four MIT robotics students with a Michelin-starred chef? Well, you get a restaurant that has incredible food without actually having anyone cook it. And that's exactly what Spyce is.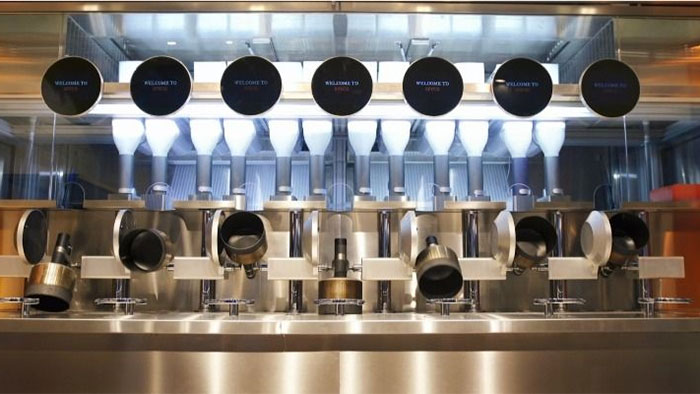 Yep, the groundbreaking restaurant is located in Boston and is a "fast casual" eatery. It is all set to change the hospitality game.
How does it work you ask? Well, instead of having long ques of people washing dishes, garnishing, cooking, chopping etc there are seven robotic woks that do the cooking autonomously. The customers order on a touchscreen and the kitchen starts preparing the dish.
According to Grub Street, there are only three human employees working at a time: two to garnish and deliver food and one guides the customers through the process.
You, as a customer have to go to the kiosk, order whatever you want and leave the rest to the robotic woks to handle it. Isn't that super cool?
The woks continuously rotate the food so that everything is evenly mixed.
Not though the restaurant may attract people because of its novelty factor in the beginning, it can lose out on customers who want to come again because the food isn't up to the mark. According to Xconomy the founders understand this well.
The concept was created by four students who were studying in MIT and were also on the water polo team. Kale Rogers, Luke Schlueter, and Brady Knight and Michael Farid are mechanical engineers and have put their degree to use.
As hungry kids they realised there weren't enough healthy food options around the city on a student's budget. And that's where Spyce was first conceptualised.
However, the students weren't great at culinary art and hence recruited chef and restaurateur Daniel Boulud, who invested in the company and serves as its culinary director.
Spyce's robotic woks use magnetic induction to cook the food and then automatically rinse themselves after each order. Unfortunately they aren't as advanced to do things like chopping and so that happens elsewhere.
The prepped ingredients are delivered to the restaurant and the employees present manage the back end work of it. So don't worry, that money you spent on your hospitality degree, not a waste just yet.
Watch this video to get a better understanding of the working:
Head over to Spyce.com to hear the rest of our story.⠀⠀⠀⠀⠀⠀⠀⠀⠀Today's the big day! We can't wait to open our doors at 10:30am. 🤖🍽now #spycefood #spyceitup

Spyce ಅವರಿಂದ ಈ ದಿನದಂದು ಪೋಸ್ಟ್ ಮಾಡಲಾಗಿದೆ 3 ಮೇ 2018
Doesn't it look like something straight out of the Jetsons? Guys, the future really is here!