A road trip from Manali to Leh, is a dream for many. The nature's beauty found on that road will remain fixed to your heart for years to come. On every turn you will see nature unfold its mysterious beauty to leave you wonderstruck. Powerful shudders of Royal Enfield taking smooth turns on rough and curvy roads, will take you to paradise. Every 5 minutes it feels like "Life can't get any better", and it betters every fourth minute. The serene beauty of snow clad mountains, beautiful lakes and water streams will leave you mesmerized.
A backpack, some awesome company, and a carefree mind will take you on the most exquisite and life changing trip.
Here are the things you will experience in your road trip from Manali to Leh.
1. When the bullet you hired arrives
That's when you know, this is happening for real.
2. That amazing moment when you leave behind Manali, and realise the journey has begun
The first glimpse of nature's beauty,beautiful paragliders and the first freezing point of Rohtang Pass.
3. The thrill that you experience when you cross your first water stream
The water is freezing cold and you know this is just the beginning.
4. When you take your first halt to eat in the midst of nature's beauty
That's when you realise how consumed you were with the beauty around that you completely forgot your hunger.
5. Some cute looking Tibetans offer a helping hand with zero expectations
That heartfelt moment when you realise people outside are genuinely lovely.
6. When you cross first bikers gang and they give you a thumbs up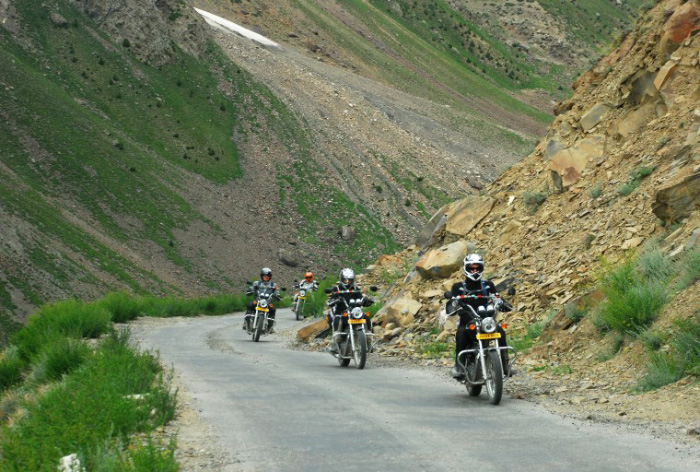 Motivates you 10 times more to complete your trip with positive spirit
7. That thrilling moment when it starts to drizzle and the water droplets freeze on your gloves
That's when you know you are on world's 3rd or 2nd highest motorable road
8. Weather gets rough and you halt in a small tent surrounded by mountains on all four sides
You meet lovely people in the tent who are ready to help even in the wildest of weather condition.
9. When your bike breaks down
You realize how strong you can be in times of crises.
10. It is 7 in the evening and feels like it's just 4 in the afternoon
Soon you  realize you're at a great height.
11. First halt at a military camp
You truly start respecting Indian army, coz 0.1% of their efforts are felt firsthand.
12. When you come across people from different origins, travel the same road and share a common goal
Enjoy the journey and not worry about the destination. It's the road that makes the difference and not the destination.
13. You start respecting your body and wonder what exactly your body is made of
Weather changes every hour, from extreme hot it goes to intense cold and windy. You just feel amazed to see your body function so efficiently in every weather condition.
14. When fellow travelers go to infinite lengths to help you in difficult times
Like create a man wall in the midst of nowhere for a fellow female traveler to pee. Also play music in the background to save some embarrassment.
15. That moment when you realize you don't need technology to keep you entertained
Travelling with an amazing set of people and experiencing life in its pure sense, is the best feeling you will ever feel.
16. You realize how lucky you are to go on this trip with those amazing souls accompanying you
You know you will never stop loving them, coz together you saw and felt something that was out of this world.
17. When you pile up stones and make your wish at Pangong lake
You just start believing that dreams do come true.
18. When you reach the highest motorable road of this planet
That's when you know your efforts have paid off. A true sense of achievement.
19. Millions, trillions and gazillions of stars are up there
All you want to do is get lost in the beauty of that starry night.
20. Finally there comes a moment when you simply feel happy to be alive
It will be an introspective trip that will make you realise how beautiful your life is.
Nature has its way of guiding people through life. It can be harsh and soft, that depends on its mood. After every struggle on that road, there is some mind blowing beauty awaiting to embrace you. A trip to Leh, on a cruiser bike will remain with you forever. The experience has to be felt.
Ja jee 'Leh' apni zindagi!