If you are seeking an opportunity to virtually transport yourself to the times of kings and their kingdoms, to the times of heroic battles and battlefields and to the times of long forgotten wonders that hand carved this land for you to unravel, then this is the place for you. Furthermore, Hampi is one of the most safest places to be at.
Hampi calls you to witness the eccentric charm of valued monuments, of its beauty, that lies in the ruins of its UNESCO recognized sights. Located at the distance of 341 k.m. from Bengaluru, the easiest way to reach Hampi is either to take a bus or train, which is easily available from major towns and cities.  The nearest railway station is Hospet.
1. Go fancy or go local, it's totally upto you!
A five million star hut over a five star hotel. What say ?
2. Hire a cycle or a bike, maybe?
This is undoubtedly the cheapest and the most recommenced means of transport. This way you'll cover all the stretches closely.
3. The glorious step well
Another great architectural beauty  !
4. The Virupaksha temple
Recognized as a UNESCO World Heritage Site, this temple is going to be a delight for your eyes.
5. The coracle boats
Tungabhadra River wouldn't be the same without coracle boats. You'll have a great time using them.
6. The boulder-strewn landscapes
Regardless of how much I say, Hampi's monuments will always possess more charm than the one expressed in words.
7. Matanga Hill
This is one of the most talked about places in Hampi. You just have to be here.
8. Vittala temple
Rediscover your love amid this stone chariot of Vittala Temple.
9. Krishna Temple Complex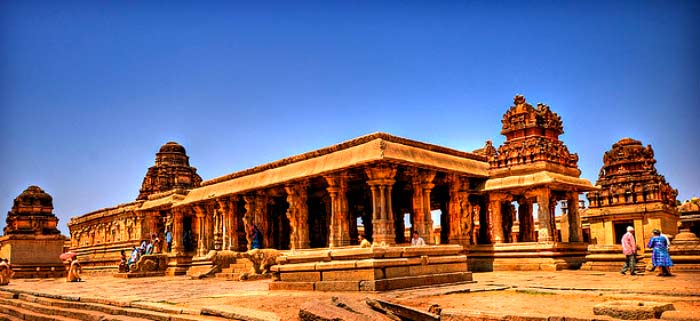 The majestic pillars of this temple will leave you mesmerized for longer than usual.
10. Bukka's aqueduct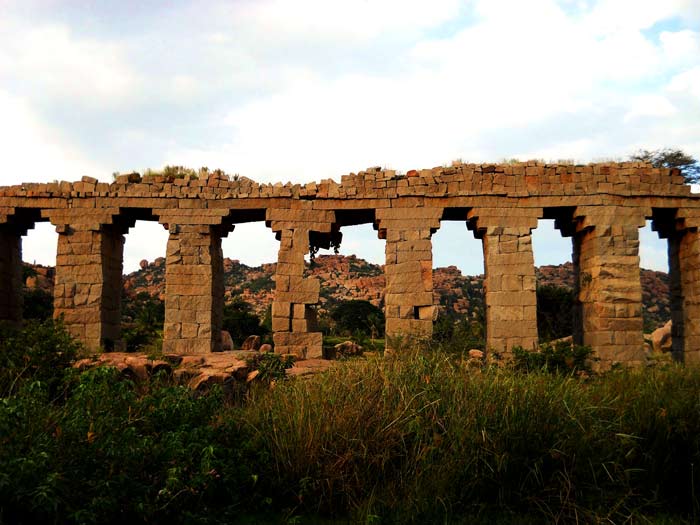 Nothing fancy about this place, just some beauty lying unnoticed.
11. Farms as seen from Anjaneyadri Hill
…and you'd wonder! Since when there was so much godliness around?
12. Zanana Enclosure
Numerous intriguing fables took birth here. A secluded place which was left for the royal women.
13. Tungabhadra River in Hampi
Ahuh! What a delight.
14. Elephant Stables
This is one of the least destroyed structures of Hampi. This oblong is demanding you to pay a visit.
15. Pampa Sarovar
This sarovar made to sacred ponds mentioned in the Hindu epics and  scriptures.
16. South India Unplugged
Every shopper's delight; the markets here, will leave you wanting for more. Just Shop.
17. Rock Climbing
Two steps up and one step down. That's how you do it here. Hampi is a highly regarded rock climbing destination.
18. Watch as the Sun goes down
Just breathe and watch the beauty turning its face towards the lunar light.
19. Hampi's Hippie Island
You always wanted to see that. Always. A part of you that rebelled enough to rebel will find solace here.
20. Discover your secret hideout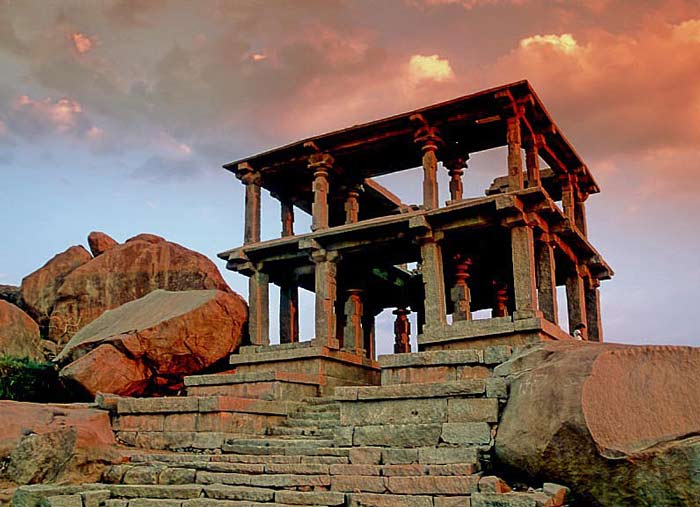 For your friends. Just for them.
The architectural aura of Hampi is akin to numerous fantasies. It is sure to take you back to the times of imperial beauty and legacy. Once you're there, you are bound to get mesmerized amid the ruins.
Are you game?