I've always strongly believed that Ratna Pathak Shah didn't just play Maya Sarabhai, she practically WAS her. Same goes for the strong-willed and regal Rani Sa that she portrayed in Khoobsurat; her snide remark game always on point, head held high, mincing no words!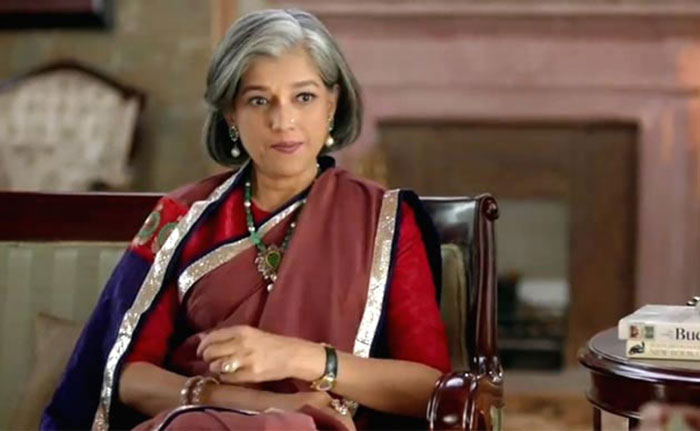 The actress is known to give some strikingly bold and frank interviews that are an absolute delight to listen to/read. And this time too, she managed to perfectly nail the coffin shut on sexist roles that female actresses agree to reprise in movies.
Ratna Pathak Shah, during The Actresses' Roundtable 2017 with Rajeev Masand, criticised Sonakshi Sinha for agreeing to a movie like Dabangg, where her role is merely that of an 'object of lust'.
She was part of a panel, which included Vidya Balan, Bhumi Pednekar, Swara Bhasker and Zaira Wasim, that discussed the various aspects of acting in Bollywood, the challenges they face being women in a man's world and what their outlook towards sexism in Bollywood movies was. Shah, being her usual frank self, made a stark point:
"Everyone who decides to act in a film; every woman; I am sorry to be judgemental… but every woman who decides to act in a film like Dabangg where she is made a complete object of lust and more or less, nothing else, those women should also stand up and say 'no, I don't feel doing a part like this'. Particularly since I have got a mummy or daddy to bankroll this, at least at this time I won't. Silk Smitha didn't get a chance to say that. Her family depended on her doing what she had to do. My family doesn't depend, so why am I not standing up?"
Ouch! Now, Ratna Pathak Shah may not have taken Sonakshi Sinha's name, but her alluding to the film is explicit enough.
Co-panelist Bhumi Pednekar, chipped in with her point of view and spoke about how she had rejected close to 28 films because the character offered to her was not something she believed in.
"We need to become more responsible. I completely agree considering the kind of impact we have on people, on the public, we need to know because every time you are smacking a girl's butt, there are going to be 10 boys in a small little village in India doing the same thing and they think it's okay."
All the actresses on the panel have a stellar body of work in terms of quality. And their point, while a harsh critique of every actress who chooses to work in such cinema, does drive a very obvious truth home: In our country, the reel influences the real phenomenally.
Therefore, the manner in which a woman is portrayed on screen, how other characters (including female characters) treat her, does impact how she is perceived and treated in real life.
Sonakshi has already been confirmed for the third film in the Dabangg franchise, where she plays wife to Salman Khan's Chulbul Pandey. It remains to be seen how Sonakshi, who has always stood by her choice of roles despite being criticised in the past for it, will respond to this. If she chooses to, that is.