A special CBI court heard arguments on the quantum of punishment to Dera chief Gurmeet Ram Rahim Singh in a 2002 rape case inside the District Jail at Sunaria near Rohtak and has sentenced him to 20 years in jail.
#RamRahimSingh sentenced for total of 20 yrs,10 10-yrs each & a fine of Rs 15 lakh in each of the two cases: Haryana CM ML Khattar pic.twitter.com/TE5ocVqvO9

— ANI (@ANI) August 28, 2017
The sentence comes after the Godman was convicted and found guilty of raping two of his disciples inside Dera headquarters in Sirsa. Yes, the same disciples who were raped under the pretext of 'Pitaaji's maafi' amongst many other sadhvis who were asked to devote their tan and man to him.
But, after the verdict, if you think justice has been served…well, you won't feel the same after you read the following.
According to India Today, a 'Qurbani Dal' (sacrifice wing) was created on the orders of Gurmeet Ram Rahim Singh where his followers were asked to sign a pledge, to sacrifice their lives for him. 
The secret wing came to the fore after four Dera men were arrested from Ghraunda, in Karnal. The police had also recovered two pistols and petrol cans from their possession.
On further investigation, it was revealed that they were members of the 'Qurbani Dal' who were asked to carry out 'qatl-e-aam' in case the Baba gets convicted. They were also given a code word 'Paudharopan Karo' to slay people amidst the civil unrest. 
The report also states that the 'Qurbani Dal' had started admission almost a year back while the followers were promised a house and financial help of Rs 11 lacs.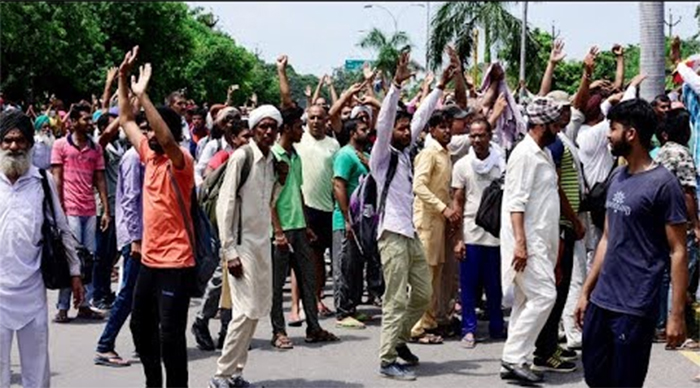 According to a report in The Tribune, a sum of Rs 38 lakh was collected from the Dera followers and that money was to be distributed among the 'Qurbani' team to trigger violence and mayhem.
If sources are anything to go by, hundreds of youths including female followers had signed the pledge to sacrifice themselves for the Baba. And that is not even the most shocking part.
As many as 400 men were asked to chop off their testicles to be closer to God and were later asked to join the dal and be part of the Godman's private army. Haquiki Hans, a former Dera follower and castration victim told India Today.
"The castrated followers were told that by removing their testicles they will meet God directly. Gurmeet Ram Rahim would then prepare testicle soup and claim that by drinking this soup he will be able to maintain his vigour."
"Those castrated were asked to join the security wing of Dera which served as Baba's private army."
Apparently the bizzare and scarring incident took place in 2000 at a hospital run by Gurmeet Ram Rahim, claims IBTimes.
Do you still feel the rape convict got what he deserved? Let us know in the comments.