A while back, people on Twitter shared the cute ways in which their moms supported their careers and successes. Some of them bought multiple copies of magazines in which they were featured while others framed their published articles. Now, a lawyer named Rutuja has shared how her dad hypes up her work.
He routinely shares her articles with his circle and then sends their feedback to her too! How cute is that?
My dad sends all my articles and news features to his friends and then forwards their replies to me 🥺 pic.twitter.com/kRAwiAXY6h

— Rutuja (ऋतुजा) 🇮🇳 (@Havaldarshinde) April 2, 2021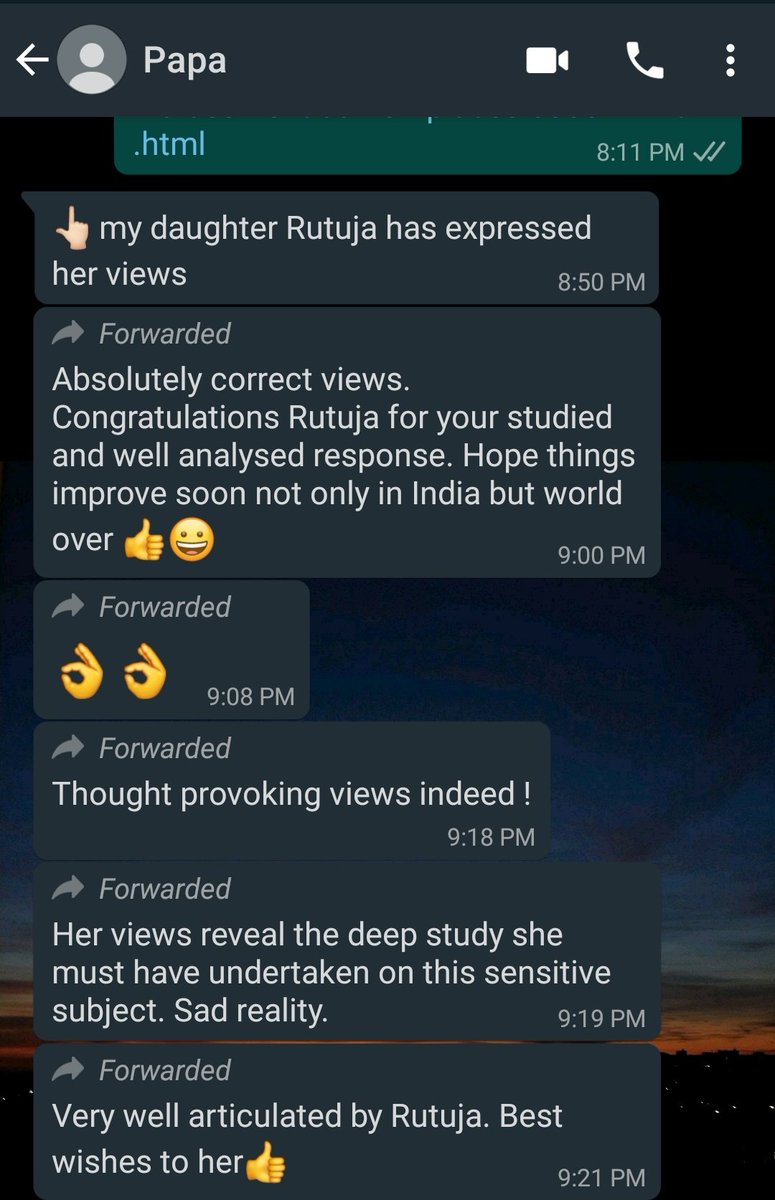 Some people said that his pride for his daughter was evident while others shared how their own parents are exactly the same.
So sweet..can see his pride

— tweet karu ki na karu🤔 (@skpagadala) April 2, 2021
This is just effing cute 🥺🥺🥺

— All India Sadness Radio🏳️‍🌈🏳️‍⚧️ (@olrawnder) April 2, 2021
I think this is great. So few family members do this for writers.

— Chryselle D'Silva Dias (@chryselled) April 3, 2021
A proud dad who wears his daughter's achievements on his heart ❤️! Jai ho ! 🙏🙏

— Rohan karkhanis (@ronniekark) April 3, 2021
That's so relatable! And why do all dads communicate only in English on WhatsApp, even with family and friends 😁

— Kumar Pushkar (@thekumarpushkar) April 3, 2021
My mother also does this and forwards them live as it comes. It's simultaneously sweet and me running out of ways to say thanks to them.

— Vaidehi Krishnan (@vaikricostume) April 3, 2021
Congrats! But I am somewhat feeling bad for kids of your father's friends😂

— nonconformist (@supperposition) April 3, 2021
This is also my father who wholeheartedly believes the second most important person after Jeff bezos is his daughter 🥺❤️ https://t.co/MgbpgRYLXk

— Blank (@TheGeek_Goddess) April 2, 2021
Haha my Dad used to do that with my YouTube videos and LinkedIn/Medium articles! https://t.co/Ql28sd199k

— Harshad (@Hkulkarni19) April 2, 2021
My dad too😍 #blessed to have cutu parents! https://t.co/pqillur5pF

— Aishwarya Parikh (@aishparikh) April 2, 2021
Three cheers to all of our parents who are as important to us as anchors are to ships. This thread serves as motivation for us to make them even prouder.