Porn is literally thousands of years old.
Long before people logged into a website to see two people having sex, men sculpted boobs and butts on pieces of rocks and wood. The earliest of such sculptures were found 25,000 years ago on the banks of the river Danube.
If you think that this was the earliest depiction of sexual intercourse or nudity in the form of art you are mistaken. 3000 years before this people sculpted phallic toys which today are called dildos.
We are very acquainted with erotica – where artists took the liberty of depicting sexual art in the form of paintings, sculptures, and even murals. Rock carvings at Khajuraho and frescoes that lined the walls of ancient bathhouses showed explicit forms of sex.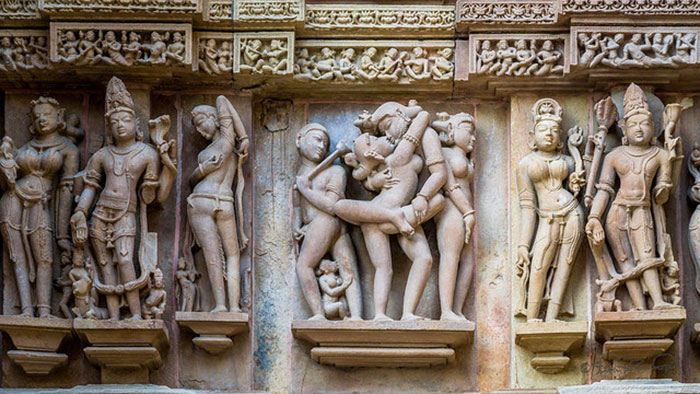 There was sex pottery, vagina-shaving murals welcoming the travelers from other cities and whatnot. They could have easily been labeled as hardcore porn since some of them even depicted bestiality.
When printing was invented, people wrote porn and it was officially called erotica.
But it wasn't until 1896 that we had our first porn movie. Which was an impressive feat in itself, since motion pictures were invented in 1895. After that, a lot of blah blahs followed about how porn is illegal and all that.
But what's really funny is how people took efforts to watch it in inventive ways.
1. In 1524, Renaissance artist Marcantonio Raimondi made a guide to all the sex positions that existed. The twist was that the people depicted in the book were gods so that the Vatican would allow the book.
The book's name was I Modi, or The Ways and was pretty explicit. The Vatican historically allowed artists to depict gods in nude form in sculptures and paintings. Raimondi had the same reason and drew his book.
But the Vatican did not take this attempt to distribute porn seriously, even though it had gods and demi-gods in it.
This made Raimondi the first person in history to be arrested and imprisoned for producing and distributing porn.
FYI – I Modi became an international bestseller.
2. Japanese monster stories that showed bizarre creatures having sex with women
Skeletons with penises with women. Check.
Octopuses having sex with women. Check.
A vagina on the face of a sea monster. Check.
Japanese "erotica" was first recorded in the 12th century. Their depictions are bizarre and out worldly and to the manga trained eye, you can see the first precursors to hentai born there.
Trippy wooden bark porn.
3. When printing was invented, people wrote porn in form of novels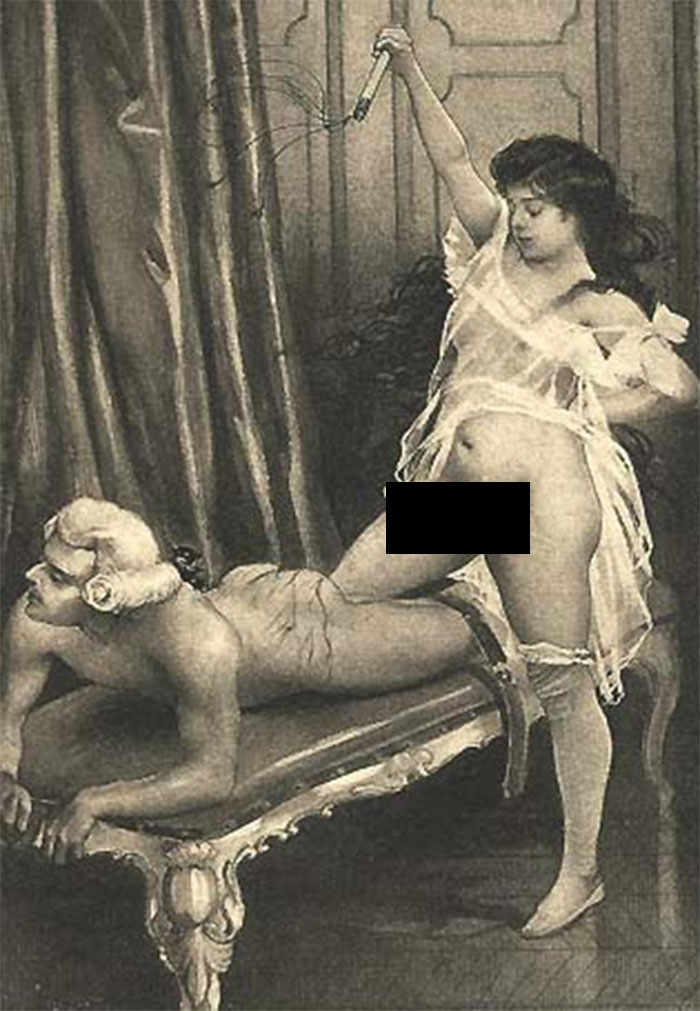 "Memoirs of a Woman of Pleasure," also known as "Fanny Hill" was published in 1748. It is one of the most banned pieces of literature ever.
An excerpt –
"To the use of all that manhood he was so nobly stocked with; and it now fell to my lot to stand his first trial of it, if I could resolve to run the risks of its disproportion to that tender part of me, which such an oversized machine was very fit to lay in ruins."
We have come a long way from the subtle texts of Fanny Hill. Today we have porn in the tasteless novels named "50 Shades Of Grey".
4. Hardcore porn was even smuggled in the form of Philosophy and Nihilism like Marquis de Sade's 120 Days of Sodom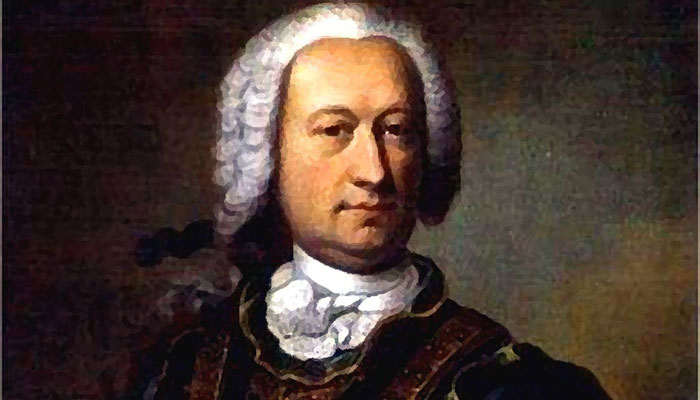 People acquainted with the movie would agree that the content was sick to the point of disgust. It depicted people eating faeces, sodomy and all other types of hardcore sadism in sex.
It was so brutal, De Sade's name evolved into the word – "Sadism".
But it was distributed under the pretext of philosophy and was appreciated by the "liberal" populace of the time.
5. There were masturbation clubs where porn aficionados would congregate and watch porn together
No, you read that right. Scottish men in 1700s used to attend masturbation clubs. In these clubs, a popular erotic novel was read out so that everyone could masturbate while listening to it.
Then they would all finish at the same time in a specially engraved plate.
No kidding.
6. People even went to the extent of making erotic watches that had hardcore porn painted on their dials.
These watches were mostly carried by men who went on long voyages. Rich men would commission artists to paint their wives on their watch dials. This was expanded to artists drawing any sort of woman to satisfy the man's fantasy.
They were banned after the French revolution.
All said and done, these watches were magnificent pieces of art since the artwork is so fine and yet incredibly detailed.
7. Photographers clicked "artistic nudes" when pornographic photos were banned
Taking photos was very expensive back in the 19th century. So when the law banned outright nude pics, photographers got smart.
They started shooting normal looking pics where people were doing daily chores. But the twist was that there was "accidental" nudity very discreetly introduced in the pictures.
The law was dodged and the men had their porn.
8. Sports magazines printed nude bodybuilders in very "sex position" type poses
Print semi-nude pictures of women and people lose their mind. Print semi-nude pictures of men, and people will read your magazine.
We often forget that porn caters to women also. How to make porn for them? Photograph incredibly muscular and dashing dudes and market these pics as a sports magazine.
It's impressive, since back then, steroid abuse was almost non-existent.
One of the most famous models to pose for such pictures was Eugene Sandow – the father of modern bodybuilding.
As they say, where there is a will, there is a way!