Cookery shows can be really fun to watch, but we have come across some really bizarre moments in the past before that left us scratching our heads. For instance, chef Jamie Oliver making a 'grape pizza' or Nigella Lawson pronouncing the word 'microwave' like a Harry Potter spell.
Now, chef Molly Yeh from Food Network demonstrated a recipe for a 'Crunchy Snap Pea Popcorn Salad', and the unusual dish didn't seem to go down well with people online. Check it out:
How to Make Molly's Crunchy Snap Pea Popcorn Salad

Def going to start adding POPCORN to every single salad now, Molly Yeh! Croutons, who?! 😅🍿🥗

Watch #GirlMeetsFarm, Sundays @ 11a|10c and subscribe to discovery+ to stream #GirlMeetsFarm and so much more: http://discoverypl.us/34WCE6K. #discoveryplus

Get the recipe for Crunchy Snap Pea Popcorn Salad: http://foodtv.com/3bfDOfS.

Posted by Food Network on Tuesday, 16 February 2021
To make the popcorn salad, she starts off by making a dressing consisting of vegetables like peas, carrots, shallots, watercress, and celery leaves whipped up with mayonnaise, sour cream, cider vinegar, sugar, and Dijon mustard. She finally mixes them up with crunchy popcorn, which ends up being soggy.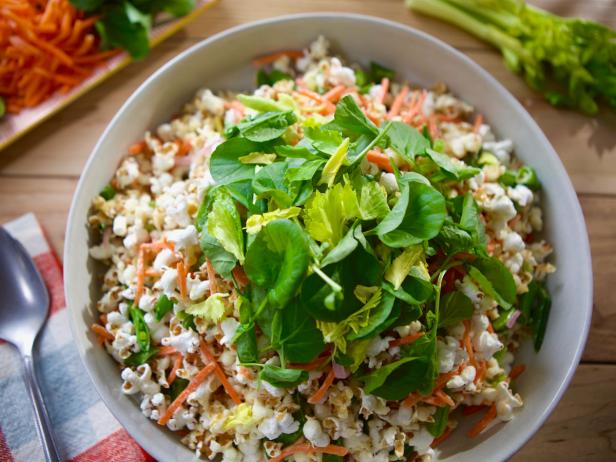 Many people on Twitter savagely roasted the recipe:
if u bring me out some soggy mayo popcorn i will be going to jail that day. https://t.co/7C9CM29JIo

— sarah lugor! (@sarahlugor) April 11, 2021
Oh nah pic.twitter.com/pvu9RyRQQW

— Greg (@King_COLDD) April 11, 2021
popcorn salad 🤢 pic.twitter.com/GsTdeSme9r

— 𝖆𝖌𝖆𝖕𝖊 𝖑𝖔𝖛𝖊 🦋 (@unknwns0ul) April 11, 2021
Others wondered if they were even being serious or if it was a spoof:
No way this is a real recipe. Got to be a parody

— Eric Hillner (@emh1729) April 11, 2021
Satire?

— captain (@bmicheal1981) April 11, 2021
I'm hoping this was an April Fools episode 😭

— Beanpots (@beandooodles) April 12, 2021
Did she actually enjoy it?
She LYING pic.twitter.com/UcxT9WNcy0

— Beast Mode(rna) (@sReginald) April 11, 2021
EXACTLY!! I was about to freeze that image too! She knew this was some garbage. They probably came up with this after some other recipe fell through 😂

— Dr. Lanier Frush Holt (@ohsolanier2) April 11, 2021
Some defended the chef and were open to the idea as well:
Looks yum

— Patrick Kenny Rogers (@V8TOMATOMAN) April 12, 2021
We have it every year on Thanksgiving

— William holtz (@Williamholtz5) April 12, 2021
Would you like to try this popcorn salad or would it throw off your vibe? Share your thoughts with us in the comments section.