The month of January marks the beginning of the harvest season that is celebrated by different names in different states of India namely Pongal, Makar Sankranti, and Lohri, among others.
And since everyone in the country is enjoying these Indian festivals, a woman decided to explain the Pongal festival to her white friend.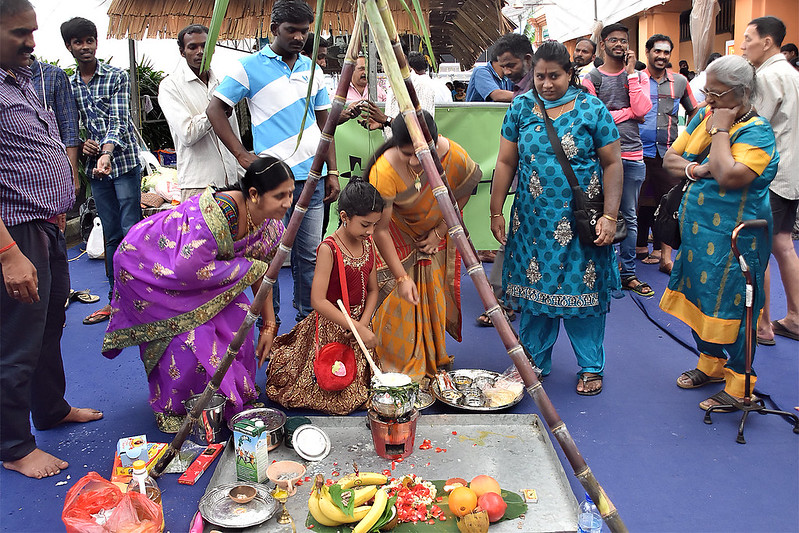 In the screengrab of their Whatsapp chat the user 'whiskeyblues' shared online, she told the person on the other side of the phone that the 14th is the 'Pongal Festival'.
To this, the person responds, 'Who is the headliner?' This is where things get tricky.
When it comes to festivals, there are music festivals, food festivals, and art festivals among others that are popularized worldwide. And each of these festivals have a main artist leading it AKA the headliner.
When the woman responded to the person with 'Huh' (expressing confusion or surprise), the foreigner asked if the headliner was Indian. Clearing the confusion, the Twitter user told the person that it was a Tamil harvest festival.
The foreigner confused the Indian festival with a music festival like the OG Coachella Music Festival. When they cleared the confusion, both of them had a good laugh.
when I try to explain Indian festivals to my white friends 😭😭😭 pic.twitter.com/1OdoPMuKVf

— whiskeyblues (@twopointhoe_) January 12, 2023
People online were also in splits on reading what unfolded between them when the woman tried to explain what Pongal is to the foreigner. This is how they reacted:
CRYING

— abby govindan (@abbygov) January 14, 2023
Comparing it w Coachella is even more worse🤮

— Subhanshi singh/सुभांशी सिंह (@SubhanshiSingh5) January 13, 2023
headliner is venpongal+chutney. opening act is sambhar vada

— Akilesh Kannan ✗ (@aklsh22) January 13, 2023
To be fair, festival is only ever used in that context here (food festival, music festival, art, comedy, wine tasting, beer crafting, harvest etc.)
Religious holidays are just that, religious holidays.

— Moistly Harmless (@moistlyharmless) January 14, 2023
That's why we shouldn't even try😂, i remember trying to explain what Holi was and the reply i got was "so y'all get drunk to throw colors at each other that you cannot remove for the next few days?, Why is that a festival, what are y'all celebrating getting drunk?"

— Vishesh Singh (@18vishesh1) January 13, 2023
Hilarious

— Vikram Chauhan (@ReWordCEO) January 12, 2023
The last 6 years of my life😂😂 https://t.co/4kyJlry4r1

— Mohit Saravana Perumal (@doc_msp) January 14, 2023
No I have no words. Connecting Pongal to Coachella?! I can't. 😭😭😭 https://t.co/j0ZqEevARF

— Janani⁵⁺⁷👩‍🚀🌙 (@naan_jaan) January 14, 2023
"who is the headliner" https://t.co/4WhBeyOSuz pic.twitter.com/lQuHRNwyTZ

— shru (@armsofnamjin) January 14, 2023
I can feel the pain through these messages 😭 https://t.co/zVkB649iQw

— Rohith Kannan ⚔️ (@RohithKannan71) January 14, 2023
I lost consciousness. 🫠🫠🫠🫠🫠 https://t.co/TvxhucJB5J

— ❤️‍🔥✨ (@RightWingOfGod) January 14, 2023
it's because white people don't call festivals festivals https://t.co/Naqw3t0jni

— ara 🦈 (@engravein) January 14, 2023
The headliner is a Tamil movie that releases during Pongal 😎 https://t.co/crg2qPIhw4

— Vineet Jeyakumar (@zlatan10_vineet) January 13, 2023
This conversation is hilarious AF. Hopefully, the person googled it up and finally came to know what the festival is all about.