India recently celebrated multiple harvest festivals and Pongal is one of them. Predominantly celebrated by Tamils, the four-day annual festival is named after the ceremonial dish 'Pongal', made from the new harvest of rice boiled in milk with jaggery.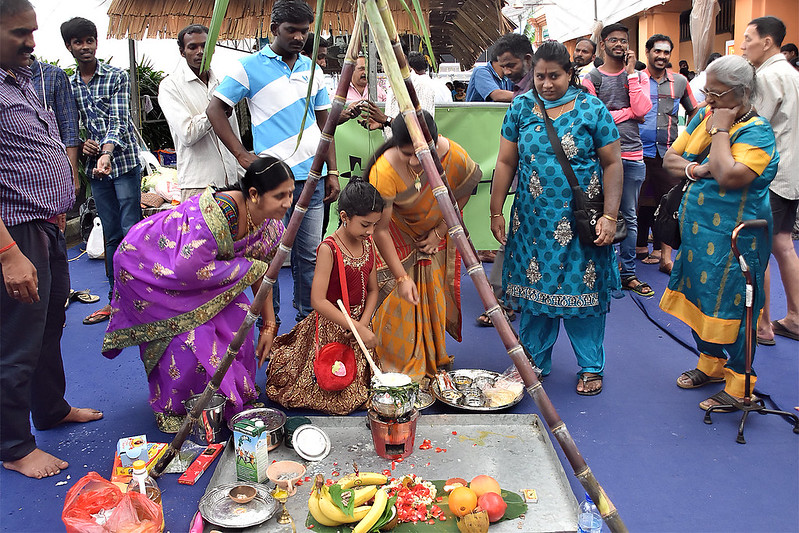 But since the world is becoming inclusive and opening its arms to people from different cultures and ethnicities, such festivals are not just restricted to the boundary of the native country.
Recently, the Tamil community in Canada also celebrated Pongal AKA Thai Pongal as per all the customs.
The community in the Waterloo region in Ontario, Canada, invited the important dignitaries of the area and treated them with traditional Pongal food served on banana leaves.
In the video that's now going viral, one can see all the foreign nationals sitting together and relishing Indian food with their hands, desi style.
Watch:
Several cultural programs were also organized for foreign nationals to give them a glimpse of this Indian festival.
Syamala Subashini T Sivasankaran, a resident of India, was sceptical about celebrating Pongal for the first time in Canada after she moved there. But she was happy to know that every festival is celebrated with the same energy and excitement there.
"I did have a thought: What if I don't see my community? How do I celebrate? I had all those questions, but I was lucky enough to find the community over here," she said in an interview.
Talking about the festival, Rajivi Nadaraja, the secretary of the Tamil Cultural Association of Waterloo region, said that "local events are a great chance for the community to participate in traditions taking part in India, where some family members may still live."
"But it's also to show our community and build that inclusive community that knows and understands what our culture is and what beautiful traditions and culture that we have."
"Our culture is beautiful and it's incredibly diverse. There are so many forms of art and music. So it's very nice for our children to understand that we're part of that heritage," Nadaraja said.
It's really nice to see that despite moving to foreign countries, people are still rooted in the culture they were born into and are proudly exhibiting them to the world and making everyone a part of the celebrations too.