To raise the right issue with films in India is a huge challenge. Usually, a good film that raises a serious issue falls facedown. But Pink was a surprising exception.
With Amitabh Bachchan's extraordinary acting skills, the film just shot to another level. The protagonists of the film were three beautiful ladies who stepped it up a notch and made it all look very real. There were no cliche's no dreamy possibilities, no Bollywood masala/glamour whatsoever. Just an issue with other major issues intact.
If you feel like reliving Pink in those amazing dialogues and inspire yourself again, you have been served. (Spoilers ahead)
1. You shouldn't give yourself the liberty to judge us at all. 
2. Because our society is too harsh on women if she breaks stereotypes. 
3. She is not supported. 
4.And gets trashed by the patriarchal society. 
5. We do what we do, because we want to. 
6. Trash her, blame her all you want. That is not going to stop her. 
7. And you scanning her, top to bottom doesn't scare her. 
8. She has free will just like you. 
9. Train yourself to handle her dresses.
10. Because she will live however and wherever she wants to. 
11. And like it's yours, it's her choice to drink or not to drink. 
12. If she goes out to pubs or parties, does not mean that she is "available".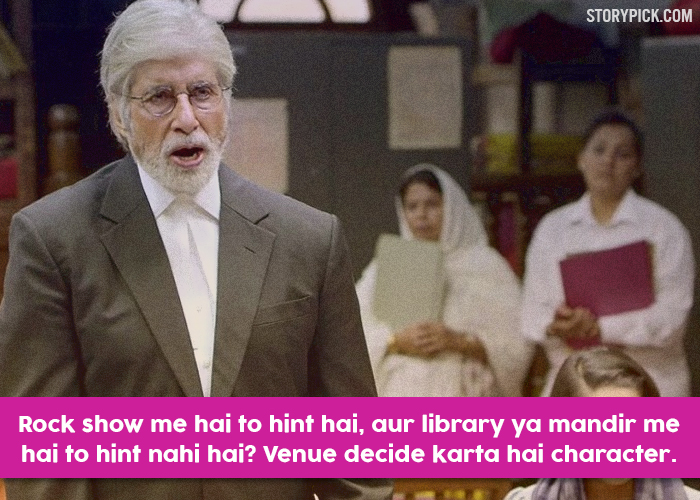 13. Boys grow up, be a man. 
14. Ask her for consent.  
15. Respect a girl's dignity, she is not an object. 
For me, this film is about raising the right issues, in the right package, using the right words. And for those who haven't been a part of this experience, but witness it.