Name some of the best artists of all time?
Name some of the best songs of all time?
Name some bands with greatest live performances?
Name some bands with the most distinctive and amazing music?
I am sure Pink Floyd would show up in each of these categories.
Because they are more than just a band. They are an art form. They make you think, make you laugh, make you cry, make you feel the emotion in their songs. They can connect with your soul in a way that no other band can.
When two different generations (read: me and my father) sit together in a room and appreciate a song, which holds true for everyone, THAT IS WHAT IS PINK FLOYD.
Here are 12 beautiful lyrics from Pink Floyd that proves why they are one of the greatest bands to have ever graced this planet.
1. Coming Back To Life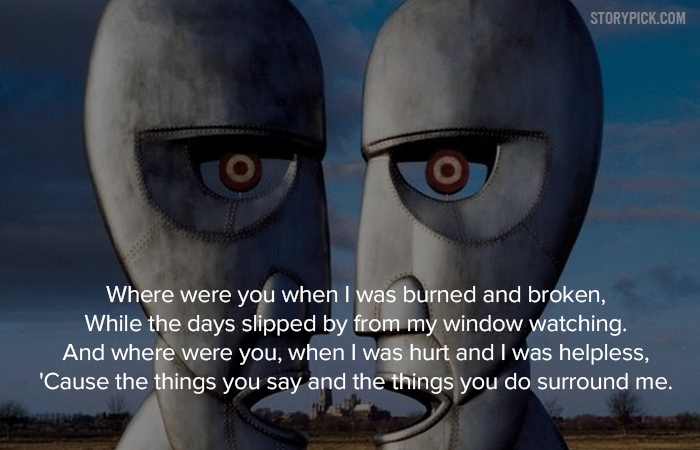 'Coming Back to Life' is a song by David Gilmour from Pink Floyd's 1994 album The Division Bell. He has said himself that this song is about his wife, Polly Samson.
Fact Source
2. Time
Time is the fourth track from Pink Floyd's 1973 album The Dark Side of the Moon. The lyrics were written by Roger Waters, one of the most popular lyricist of all time.
Fact Source
3. Wish You Were Here
Wish You Were Here is the ninth studio album by Pink Floyd, released in September 1975. This song appears on Rolling Stone‍'s list of "The 500 Greatest Albums of All Time". Band members Richard Wright and David Gilmour have both quoted Wish You Were Here as their favourite Pink Floyd album.
Fact Source
4. Shine On You Crazy Diamond
"Shine On You Crazy Diamond" is a Pink Floyd composition composed by Roger Waters, Richard Wright and David Gilmour. This song is a tribute to former band member Syd Barrett, who was one of the founders of Pink Floyd.
Fact Source
5. Comfortably Numb
This song is one of Pink Floyd's most famous, and is renowned especially for the guitar solo in the middle and at the end of the song which were ranked as the greatest guitar solos of all time. This song was an important part of any live shows by Pink Floyd.  This version was used in the movie The Departed and also appeared in an episode of The Simpsons.
Fact Source
6. Sorrow
Sorrow is the closing track and this is the last line from Pink Floyd's 1987 album, A Momentary Lapse of Reason. This song goes with every mood, from the soft vocals to the hard power chords.
Fact Source
7. Another Brick In The Wall
"Another Brick in the Wall" is the title of three songs of the same basic theme and name, on Pink Floyd's 1979 album The Wall. Pink Floyd received a Grammy nomination for Best Performance by a Group and sold over 4 million copies worldwide. This album is one of the most interesting and creative albums in the history of rock music.
Fact Source
8. High Hopes
High Hopes is the final track from the 1994 Pink Floyd album, The Divison Bell. This stress relieving song was written keeping Gilmour's autobiography in mind.
Fact Source
9. Echoes
Echoes is the third-largest song of Pink Floyd and has a running time of of 23:31. This was originally called "Return To The Sun Of Nothing".
Fact Source
10.Eclipse
"Eclipse" is the final track sung by Roger Waters from Pink Floyd's 1973 album "The Dark Side of the Moon". This was also used at the final of the 2012 Summer Olympics opening ceremony in London.
Fact Source
11. Us And Them
A song about the senselessness of war, Us and Them was written by Richard Wright and sung by David Gilmour.
Fact Source
12. Breathe
"Breathe" is a song of Pink Floyd on their 1973 album The Dark Side of the Moon. The solo of 'Breathe' takes you to a different world.
Fact Source
These songs don't require a justification for being favorites. Don't just listen to these songs, feel the music and the lyrics as well.
I bet, you won't be disappointed.