When it comes to menstruation, women may have varied experiences. For some, that time of the month equates to cramps, nausea, fatigue, dizziness, swollen feet, cravings, etc. The list can go on and on. Hence, many women do express the need for menstrual leaves in India. Previously medical professionals too have ruled that period cramps are as painful as heart attacks for some women.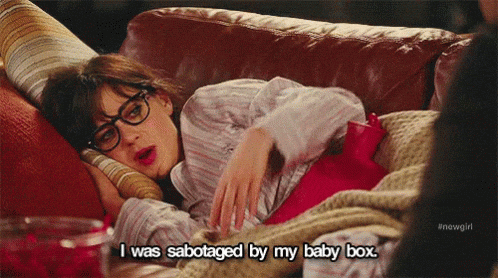 Yet, despite this conversation, some downplay the pain women go through during their menstrual cycle by calling it an exaggeration or an over-reaction. Gladly, some Bollywood celebrities, amongst many others, have come out in support of the idea of menstrual leaves for women and transgender people.
Actor-turned-author Twinkle Khanna summed up the 'period leave debate' with the phrase 'equal but not identical', emphasizing that we shouldn't have to fight against our biology to be seen to be as good as men. She took to Instagram to show her support for period leaves through a post:-
Actress Sonam Kapoor took to Her Instagram stories to laud the introduction of period leaves, saying it is "better late than never". She shared a post which mentioned how a company has announced upto 10 days menstrual leaves per year for their employees.
However, journalist Barkha Dutt put out a string of tweets trying to claim how a menstrual leave "ghettoises women". She further said that she would not change her stance on this. Check out the tweets below:-
NO @ShashiTharoor menstrual leave ghettoises women, becomes one more excuse to close certain professional doors on women and treats the monthly period as a grand event instead of routine biology. Here's a piece I wrote in @washingtonpost on thi this https://t.co/OKqDslqpuZ https://t.co/f6N6sDS8Lw

— barkha dutt (@BDUTT) March 8, 2020
Sorry Zomato, as woke as your decision on #PeriodLeave is, this is exactly what ghettoizes women and strengthens biological determinism. We cannot want to join the infantry, report war, fly fighter jets, go into space, want no exceptionalism and want period leave. PLEASE.

— barkha dutt (@BDUTT) August 11, 2020
The other thing hideous about the idea of Period Leave is how it turns a normal biological experience into some sort of monumental event, gendering us at the work place when we have fought so hard to not be gendered. You can troll me all you want. Wont change my mind on this

— barkha dutt (@BDUTT) August 11, 2020
Wrote this earlier for @washingtonpost on #PeriodLeave, why I think it genders the work space, ghettoizes women, biologically slots us and trivialises feminism. Stand by every single word https://t.co/7tf2LVRyLz

— barkha dutt (@BDUTT) August 12, 2020
Many others raised strong objections with Barkha's stand and proceeded to explain why her tweets are problematic:-
Appreciate @BDUTT for the strong woman that she has been.

On the issue of period leave though, my 2¢:

1) Not every woman's experience is the same. Some women really suffer during periods

2) Women's experience of pain has traditionally been downplayed, assumed to be exaggerated

— Shehla Rashid (@Shehla_Rashid) August 11, 2020
Disagree, Barkha!

I know "No uterus, no opinion," and I hate to use 'but', but, having seen the excruciating pain some women go through, it's good to have the option of period leaves. Don't take it if you don't need it, why say it should not be there at all! https://t.co/2u50W797tS

— V (@ivivek_nambiar) August 11, 2020
Once heard a woman I look up to say, "I won't hire women. They'll get married, will want maternity leave… men are sorted," and was quite upset a woman said so. Just like I am now.

Doors are shut because it's seen an aberration. That's why we should be normalising it.

— V (@ivivek_nambiar) August 11, 2020
Sorry Barkha, I strongly disagree. Period experiences are different for different women and no one person can speak for all. Those who suffer from extreme forms of it, and have for years, we didn't choose this. The burden of not being discriminated against should not be on us.

— Rituparna Chatterjee (@MasalaBai) August 11, 2020
So just dont take that leave ! why not let the women who suffer from extreme pain cramps (& the pain can be mind mind numbing) take the damn leave if she wants without feeling guilty . why saddle women with this extra GUILT ? let the girl chose herself without guilt .

— Richa Lakhera (@RICHA_LAKHERA) August 11, 2020
Reproductive health is personal & political. There are women who suffer from acute pain & endometriosis. Barkha basically giving the: "My generation suffered & sucked it up, so can you." Capitalism reduces women to their output/production capacities, not real human realities.

— Rucha Chitnis (@ruchachitnis) August 11, 2020
The patriachal mindset that if women embrace their biological differences they need to be put in a box that labels them is the problem. Its the same mentality that has been used for years to deny women 'maternity leave.'

— Agamoni Ghosh (@agamoni) August 11, 2020
I feel we should leave it to the womens choice whosoever want can take it ..else fine
..as I believe women has different kinds of pains. .for ex almost once in 3 months I use to take pain injections in veins …pain was that unbearable 😒☺️

— Netra Parikh (@Netra) August 11, 2020
Do you feel it is important for other companies to start providing menstrual leaves too? Share your thoughts with us!
Cover Image Source- Left