With the ongoing lockdown in many parts of the country, many of us have been in the kitchen experimenting with dishes. But many people have gone too far with their unusual recipes, like 'maggi laddoos' made with cashews and jaggery or putting maggi in pani puri.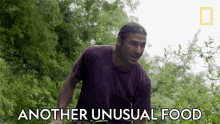 In yet another fusion dish, an Instagram user named Chahat Anand shared a clip of the preparation of 'oreo maggi' with ice cream. She starts off by breaking a packet of maggi in a pan with boiling water, and adding crushed oreo biscuits to it. She folds the oreo in the maggi and finishes it off by topping a scoop of chocolate ice cream on it. Check it out:
View this post on Instagram
The short video clip garnered many reactions.
Some people claimed to have tried it out.
2. Others stuck to their belief of having instant noodles the regular way.
Are you willing to try this dish? Tell us in the comments section below.