President Obama And Vice President Joe Biden have enjoyed quite the bromance of the century. It is extremely awesome and their brotherhood is evident on their faces in social gatherings. The internet, of course, made it even more precious with gems of memes which went viral like a wildfire.
Now that Trump is replacing Barack Obama in the White House And Mike Pence replacing Joe Biden, the internet memesters came up some more hilarious memes that'll have you laughing your ass off!
1. A message to Putin
2. WiFi warfare!
3. Joe cannot handle it!
4. No, Joe
5. You and me, in this beautiful world!
6. No Joe, we are not doing that! Don't make me do it!
7. Obama, we gotta do this for our nation! 😛
8. "I ain't doing that!"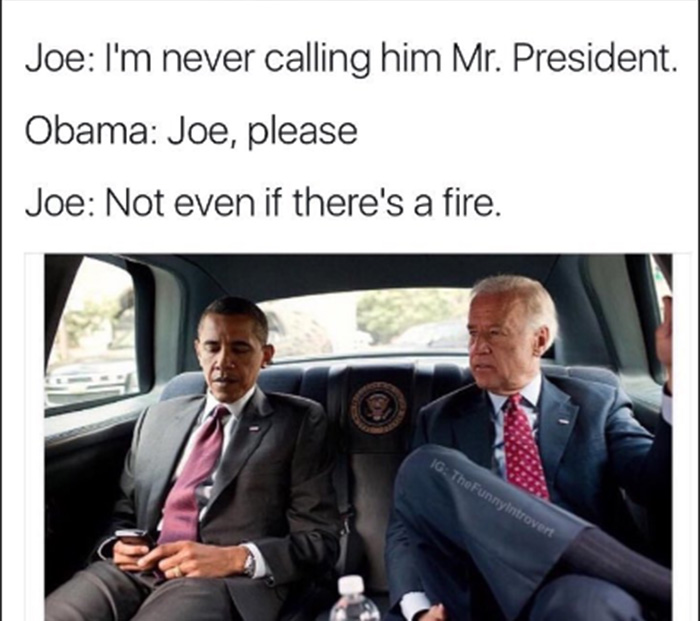 9. You ma nigga Joe!
10. Fancy a game of hide and seek. Donald?
11. "I wish I hadn't watched the movie with you, Biden!"
12. "I said what I said!"
13.  Netflix and No Chill!
14. "Ummm….I didn't do it!"
15. "This jacket be MINE!"
16. "My fist is waiting…"
17. It's not high school anymore
18. "At least let me make fun of him!"
19. Teamwork bro!
20. "He can never be ME…they can never be US."
This bromance is going to be missed!
Cover Image Source