India is supposed to be a secular country where every person is allowed to practice any religion they see fit, or not practice any religion for that matter. However, this is better accomplished in theory and not so much in practice as is seen in the case of India. People leave no stone unturned to shame someone if they see them deviate from their notion of what is right.
It is rather unfortunate that the internet is used for more bad than good, and the keyboard warriors of the internet come out of their miserable existence to police anybody who dares to step out of set notions and celebrate humanity not religion. This is exactly what happened to Bengali actress, Nusrat Jahan, when she wished her fans on Durga Puja.
Nusrat wished her fans on Durga Puja on the sixth day (soshti) through a Facebook video. She said that everyone should enjoy this day and that she had plans with her friends and family, after she was done judging the puja pandals in Kolkata.
However, her innocent wish gathered her a lot of hate simply because she being a Muslim woman chose to wish people in a 'Hindu' festival. The keyboard warriors found a new target and shamed her for indulging on a Hindu festival.
1. And who are you to judge that?
2. Sick!
3. Translation: Nusrat Jahan aap Muslim jaati par kalank ho. Tum ek Muslim ho kar Durga Puja ki planning kar rahi ho.
However, Nusrat was not one to keep quiet about the shaming and she proved that haters don't bother her by constantly putting up posts celebrating the festival with a very strong message in them.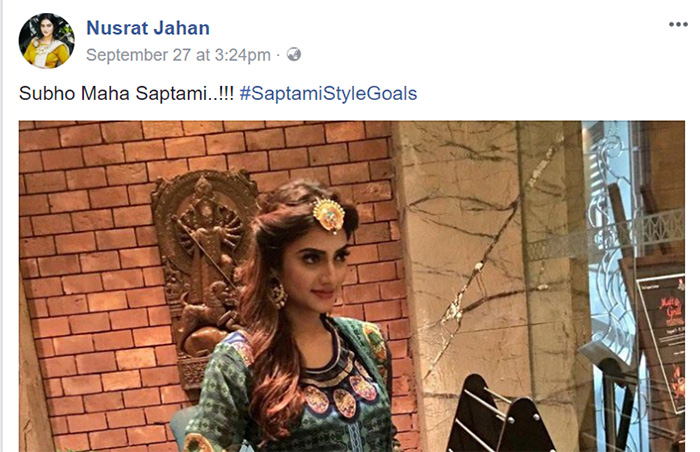 She openly addressed the disgusting remarks of the trolls and gave them a fitting reply for preaching religion in their regressive comments.
Lately, celebrities especially actresses, are getting a lot of flak for their individual choices like what they choose to wear and trolls find a new target as it pleases them, be it telling women what to wear or what to practice. But Nusrat has taken a courageous stance in not only standing her ground unfazed but also giving it back to the people who thought they could get away with it.