Mistakes happen all the time. And over the weekend, the National Stock Exchange's official Twitter handle NSE India accidentally shared pictures of actress Mouni Roy, reports The Indian Express. Of course, the mistake was later rectified and the post deleted from the social media platform.
But not before several users took a screenshot of it and used it to start a meme fest online.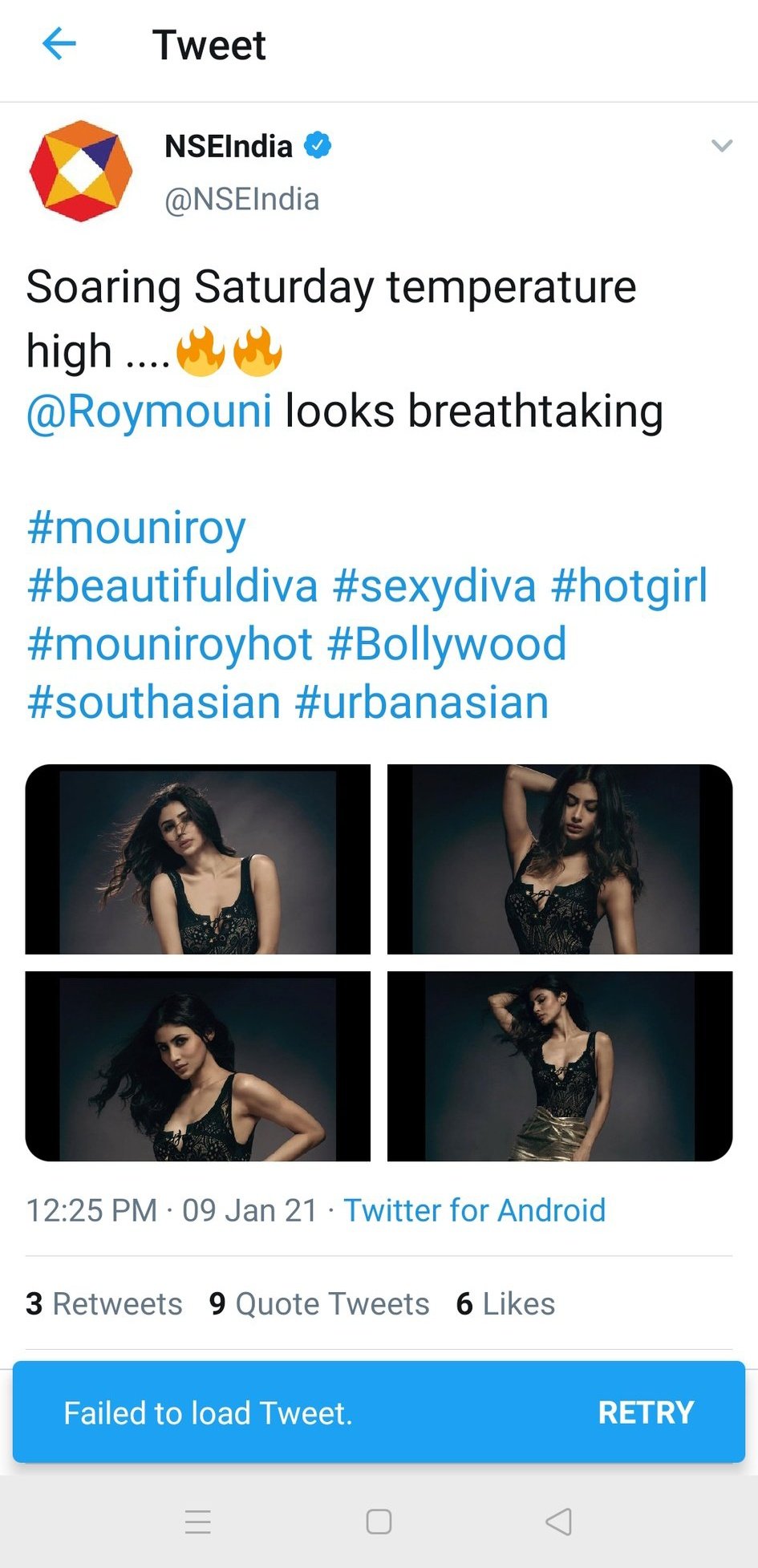 NSE India also apologized for the "human error" and the "inconvenience caused."
Today there was an unwanted post on NSE handle at 12:25 p.m. It was a human error made by the agency handling NSE account and there was no hacking. Our sincere apologies to our followers for the inconvenience caused.

— NSEIndia (@NSEIndia) January 9, 2021
Some people wondered if the employee was on their notice period while others questioned if the same agency was handling the account of a media company revolving around Bollywood content.
NSE be like :- pic.twitter.com/8fPF5K32hX

— Saurabh Tamrakar (@Srbh_Tmkr) January 9, 2021
My question is wo Rangeen aadmi kaun tha??? 😆😆

— Kim (@ChowkidarKim) January 9, 2021
Meanwhile Everyone to @NSEIndia admin pic.twitter.com/LA0ujKCxVS

— saurabh khadilkar (@_sk7701) January 10, 2021
Who was handling NSE's social media account yesterday pic.twitter.com/U9GiARWPsd

— Monu Gupta (@ManGup138) January 10, 2021
NSE and Agency both hunting for Socialmedia handler pic.twitter.com/LTwrDW7s0u

— YOGI (@yogeshkondekar) January 10, 2021
Twada galti galti
Sada galti penalty
😂😂😂😂😂😂

— Simran (@SimranSwan_2) January 9, 2021
When notice period employees don't get enough compensation.#nseindia pic.twitter.com/S1DdEZcams

— Piyush Jha (@AsliGyaan) January 9, 2021
risk hai toh ishq hai https://t.co/oQZeGweZWQ

— majid (@kaapiccino) January 10, 2021
Do you think the person responsible was sacked for the "unwanted post"?