For someone who could live on a steady stream of rom-coms, Priyanka Chopra and Nick Jonas' love story feels like the ultimate one! The couple has crossed continents to be with each other!
The fact that the entire Jonas fam came down to India and enjoyed all the desi rituals and ceremonies with such love makes every heart go mush!
Don't even get me started on that sangeet! That was some Oscar-level spectacle right there!
Because how else do you explain the Jonas Brothers performing and Sophie Turner dancing like a true-blue desi girl?
The FOMO about the actual Christian and Hindu wedding ceremonies is going to keep killing us a little while longer. The couple is reported to have sold their wedding photos to an international magazine, so we're going to have to wait a while for them to come out.
But we can make do with some sweet little details about the Hindu wedding ceremony that have come out!
DNA reports that PeeCee's mom, Madhu Chopra performed an aarti to welcome the groom and his baaraat, which comprised men dressed in sherwanis and Rajasthani saafas (headgears) and women dressed in lehenga-cholis!
As for the much anticipated joota chhupaai ceremony, cousin Parineeti Chopra successfully managed to steal her Nick Jiju's shoes, and demanded no less than Rs 5 lakh in return for them!
Wonder if Pari's Mimi Didi helped her drive a hard bargain and get it all!
As for the groom's band of brothers, a source revealed that Kevin, Joe and Franklin Jonas had a fun competition picking up and lifting the bride and groom up high during the varmala (garland ceremony)!
It was reported that in the welcome gifts for the guests, PeeCee's family had included a booklet that explained the Hindu rituals and certain Hindi phrases in English, so that the Jonas family and the foreign guests could understand and enjoy the ceremonies.
A source revealed,
 "Both the families accepted and followed each other's customs wholeheartedly. During the Hindu wedding, Priyanka's younger sibling, Siddharth, explained every ritual and its significance to Nick's family."
And now for the sweetest gesture of all! Priyanka got quite emotional upon hearing Nick's loving speech during their Hindu wedding ceremony!
Turns out, Nick Jonas was quite taken with the ritual of saat pheras in the Hindu wedding ceremony. According to a source,
"When he was told that the saat pheras imply a vow taken by the bride and groom to spend seven lifetimes together, Nick exclaimed, 'We should take seven more'. Everyone cheered after he made this remark."
After the ceremony was over, Nick proceeded to take the mic and give a little speech for Priyanka, which left her teary-eyed!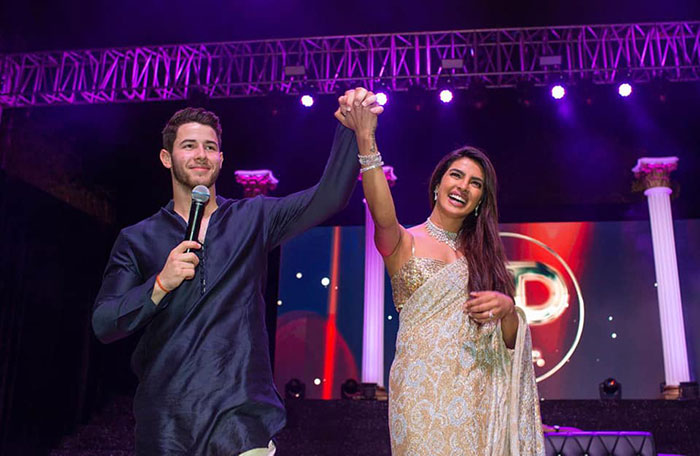 "He vowed to stay true to his promise and take care of her forever. At the end, PeeCee was quite overwhelmed with Nick's sweet gesture."
Arre yaar, Nick Jiju! Y u so awesome?
The newly married Mr and Mrs Jonas and their families are now in Delhi, where the couple will host their first reception.
The second reception is to happen in Mumbai, where all of Bollywood would be invited. However there has been no confirmation on the date and venue for that one yet.
Meanwhile NickYanka's recent magazine feature has been raising temperatures for being too hot and heavy!
Here's wishing the gorgeous couple loads of wedded bliss! Jiji aur Jija ko badhaai ho badhaai!