Crimes against women on public transport isn't a new thing in the country.  It may be buses, where perverted men specifically rub against a girl or pretend to fall on her just to touch her heaving chest. Men ogle at the college going student who got drenched in the rain and hence her white kurta maybe see-through, or they masturbate at her while she is just sitting and minding her own business. And trains, they aren't any better.
If you're wondering what my rage is all about, the following news I'm about to share will make you sick to your stomach.
In a shocking and gruesome incident, a woman was brutally thrashed by a man in a moving local train in Mumbai. She was being molested aboard the Kurla and Dadar train at around 11 pm on Thursday.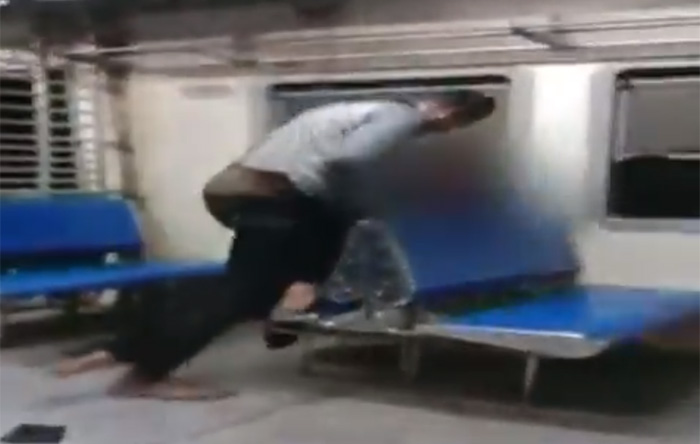 In a report by Times of India, the man has been identified as Rafique Shaikh. He owed the lady a large sum of money and that's what the two were fighting about. He dragged her by her hair and even tried to strangle her at one point.
A video was taken showing the entire episode of the physical abuse and harassment by a co-passenger. The train compartment was allegedly one reserved for the differently abled hence none could come to her rescue.
#Mumbai: A woman molested by a man onboard a local train, plying from Thane to Chhatrapati Shivaji Terminus railway station, last night. Man arrested at Dadar railway station, case registered. pic.twitter.com/CqePInN2Q3

— ANI (@ANI) April 6, 2018
Not just this, the video clip even highlights the sad truth of the callous behaviour of  authorities. According to News 18, a guard can be seen as an eye witness to the incident, however he does nothing except for a hand gesture for the accused to stop.
Samir Zaveri, the eyewitness told Mumbai Mirror,
"A man was cruelly beating a woman in the disabled compartment which I board at Thane. When the train started from Kurla, a man started assaulting the woman."
He further added that he is 90 percent disabled and so couldn't help the women. However, he did his part by asking the security person who was in the ladies compartment to pull the emergency stop to get the train to a halt but he didn't respond.
The video is so awful and the way she is being beaten up just brings tears to my eyes. At one point she is even seen trying to fight back. She is also dangerously close to the train doors which are open.
Watch the video here:
Warning: Disturbing video. Viewer discretion advised.
These visuals expose the dark reality of women safety in Mumbai. A man can be seen repeatedly harassing, assaulting & molesting a woman. Since the coach was for the specially abled, none of the passengers could come to her rescue. Man was arrested at Dadar station & an FIR lodged pic.twitter.com/xOV2XirraE

— News18 (@CNNnews18) April 6, 2018
The officer on-duty, the Dadar GRP said that the accused was taken into custody. He is at the Dadar station while further investigation is being conducted. More details of the incident is still awaited.
The question is how swiftly will action be taken? And till when can women be unsafe in public spaces (or anywhere)? And when will staring by-standers actually take action while such a heinous crimes are being committed in front of them?
As tears well up in our eyes, all we're doing is praying for the victim's safety.