The Internet is already fuming with rage after Varnika Kundu got stalked by BJP MLA Subhash Barala's son Vikas and his friend Ashish Kumar while she was driving home on August 4 at around 12:30 AM, on the streets of Chandigarh. The matter escalated after she was questioned as to why was she out late during that night. While the country was trying to digest the regressive state of our society, another incident has come up, and it's slapping us with even worse realities.
Mumbai, which is considered to be a safer city, has been seeing a lot of such incidents lately. The most recent one involved stalking, and happened with designer Aditi Nagpaul.
On 7th August, Aditi was on her way home in her car, along with her 2 children. That's when she noticed that she was being followed. Aditi posted a Facebook status describing the whole incident and we'll let the same do the talking.
This is shocking and nerve wrecking !
In the last 10 years, I've always felt safe in Bombay, and in the same breath have always cursed Delhi! But last night showed me a different side to my 'not so safe anymore' city!
2 women and 2 kids in a car together don't stop a random man from stalking and following you upto your house and ringing your door bell at 2 am!
He dint have any fear in his eyes, a fear of being captured by security cameras, interrogation by security guards or threats of Police! He just hung around coolly in his car long after the incident very comfortable in getting his pictures clicked!
So here they are! Please do circulate and make others aware of this mans possible psychotic streak!
However, a police complaint has been lodged, and I'm awaiting to find out more details on him to take further necessary actions!
But well what a Rakhi! In the end, you have to protect your own self…
Aditi, who resides in Shastri Nagar, said that the incident took place on Veera Desai Road. She didn't waste any time and filed an FIR under section 354 (D) (stalking) of the Indian Penal Code at Amboli Police Station, reported

Hindustan

Times.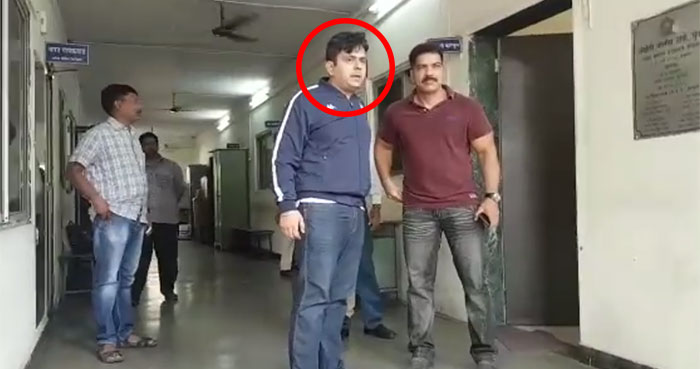 The accused, Niteshkumar Sharma, stays in Malad and was arrested by the Mumbai police this morning.
We congratulate Mumbai Police on doing their job quickly and efficiently, but we also hope that the number of such cases reduce with time. How will we be able to grow as a society, or a superpower if the women in our country have to think twice before stepping out?