There is a certain kind of thrill one experiences when they travel to new places. It's like the excitement you have on your first day at your dream job or right before going on stage when you're about to give a killer performance!
So it's understandable when a person gets addicted to travelling. Like Praveen Mehta from Mumbai, who travelled to as many as 59 countries in 4 continents in a span of 11 months, reports TOI.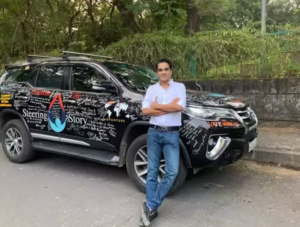 52-year-old Praveen's agenda was simple, to travel to as many countries as possible and meet people who have made a difference to the world. His journey had begun from Juhu on April 2019 and ended in March 2020. What's even better? The entire journey was made by driving!
He first travelled to Bhutan, came back to India and drove to Myanmar. From there he visited a series of central Asian countries, Russia, Baltic and Nordin countries, and 30 European countries including the United Kingdom.
He shipped his car to London and the United Stated and visited a couple of more places. Throughout his journey, he met and interviewed about 150 people whom he called "changemakers" and "influencers" and ones who drive the world.
For example, he met with Gustavo Goretti, a celebrated investigative journalist who was once kidnapped for exposing former Peruvian President Alberto Fujimori's nexus with drug traffickers. He met Kyaw Thu in Myanmar who has funded over 1,30,000 funerals and works for public health and education.
He's also met Cynthia Muang, who has helped around 4,000 women in giving birth. Other interviewees included peace activists, rockstars, revolutionary poets and startup leaders.
Well, I'm pretty sure that Praveen Mehta has solid tales to tell about his journeys and the wonderful people he met on his way!