Love.
Love comes in all genders, colours, age, size and shape.
But what happens when love is something that makes you question everything you've ever known?
This mother-son duo from Clovis, New Mexico are under trial for being in a romantic relationship. The mother, Monica Mares, gave birth to Caleb Peterson (birth name, Carlos) when she was 16 years old and gave him up for adoption and hadn't met him until he turned 18 years old.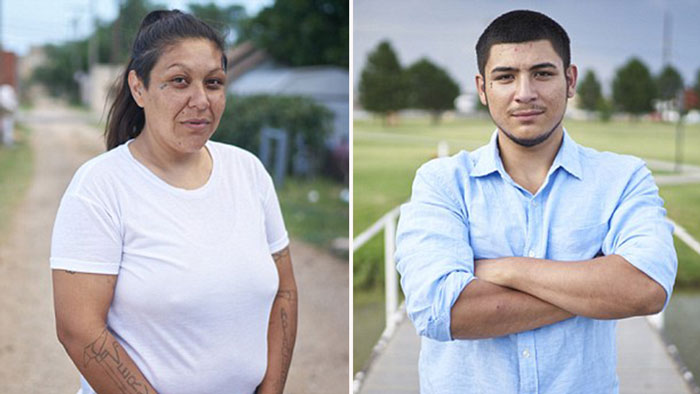 The 36-year-old mother of nine got in contact with Peterson and when they met, what she felt for him had a very motherly quality.
"He gave me a call and asked me to pick him up, I got butterflies in my stomach. I met him outside and I knew it was him when he came towards me. He was crying and he gave me a hug. It was almost love at first sight but first, it was mother love. He gave me a mother hug. He came home in the truck and came to live with me and we were both happy as mother and son."
But in some time both of them felt attraction for each other and took their relationship to the next level.
"At first I told him,"I'm sorry I don't know how you are going to react to this. I'm your mom and you're my son, but I'm falling in love with you". And he said: "You know what I am too. I was scared to let you know."
They were intending to keep it a secret but the neighbours got to know due to fight and everything was lost for them.
"If they lock me up for love then they lock me up. There is no way anybody could pull us apart, and I really do love him. It hurts he is far away. It hurts really bad. I wish I could see him, talk to him, but I can't risk it."
In an exclusive, individual interviews with Daily Mail Online, they told how they are willing to risk everything to be together – and have decided to go public with their affair in a bid to raise awareness of Genetic Sexual Attraction (GSA) relationships.
Now they cannot see each other nor can Mares see her other kids but is ready to give up the others to be with Peterson as it is true love.
'There's a lot of negative comments I read on Facebook and things – people say it's disgusting, it's gross, she's your mom but it doesn't hurt me or affect me at all.
'If they were in my situation or if they were to find out that somebody they loved was actually related to them then they'd be saying the exact opposite.'
Peterson now lives in Clovis awaiting his mother/lover be released from custody and sees for themselves, a joyful future.
"I will wait for her if she gets a jail sentence and I don't. For me it's not about patience it's about commitment. If I'm committed to something I follow it through that's the kind of person I am. If I love her enough and I'm crazy enough to stay in Clovis for her and crazy enough to face all the courts for her then waiting a bit of time to have the rest of my life being happy then I'm willing to do that."
The ways this world works.
Source : The Daily Mail UK
Cover Image Source