F.R.I.E.N.D.S. without a doubt remains one of our all-time favourite shows. Well, it goes without saying that we love and adore all the six of them. But then there is something about Monica that makes us all wish to have a friend like her.
Here are the reasons why Monica Geller is the best friend you never had.
1. She always gives the right advice
Monica is the one who always gives you the right advice. Be it the time when Chandler wanted some advice to impress girls or when Rachel struggles to get a new job.
2. She is a foodie and is always the one who provides the food
Well, everybody loves foodies. Monica not only loves to eat but she also loves to make other people eat. She is a cook and a pretty good one. Now who would not love to have a cook like her as a friend.
3. She is very competitive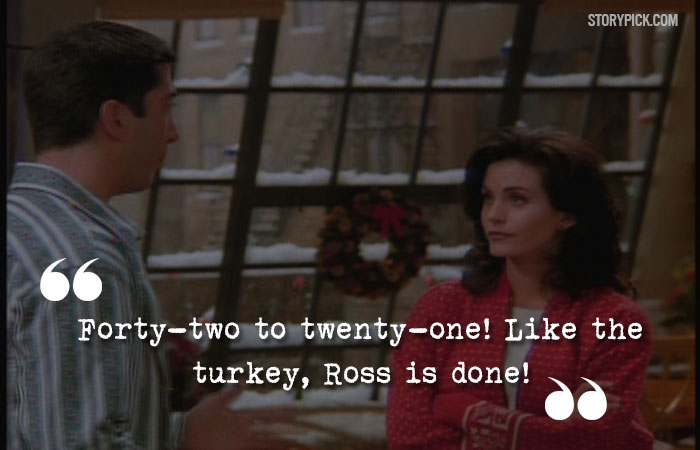 There is hardly anyone who is as competitive as her. Though it is true that no one wants stiff competition but then you have to admit that life is not fun without a little healthy competition among friends.
Well, who can forget the Geller cup and the fussball?
4. She is the life of the party and especially if she gets drunk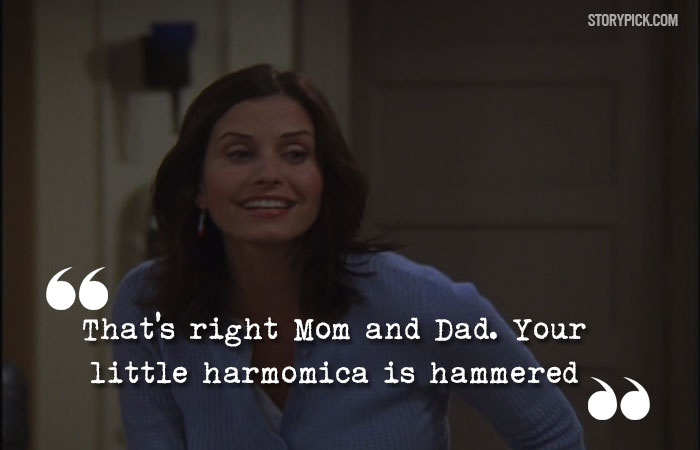 Well, a person like her can never be away from the limelight. Once she gets drunk she becomes the life of the party. She knows how to enjoy herself when she gets drunk. Well, don't we all love a friend who gets drunk and brings the party to life?
5. She always gives her honest opinions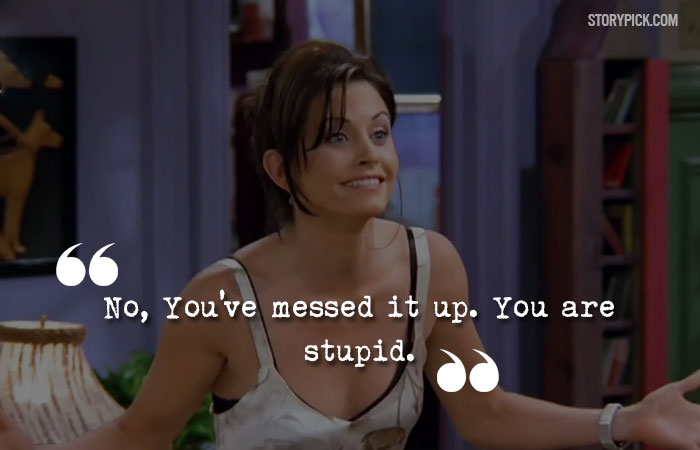 Another quality of Monica, which makes her a great friend, is that she is not afraid to point another friend's faults. She'll always be brutally honest with you, and for the record, she doesn't even mind bringing up embarrassing facts of your past to prove her point.
We all need a friend who points out our faults and gives us their honest opinions. Don't we?
6. She is the 'one with the apartment'
One simple reason why we all need a friend like her is because of her apartment. It is not possible to think of F.R.I.E.N.D.S. and not think of her apartment. No matter how many coffee shops are there, still we all need a friend's place where we can hang out.
Monica provides exactly that. Not only that, she also keeps it clean and tidy.
7. She is always willing to help out her friends
One quality, that sets her apart from everybody, is the fact that she is always willing to help out her Friends. Be it the time when Rachel needed a place to stay, after she ran away from her wedding or when Joey needs food. Well, who can forget, when she taught Chandler about the erogenous zones that would help him improve his sex life and her signature dialogue, "seven! seven! seven!"
8. She is very impulsive
She is highly impulsive and this makes her a kind of friend we would all love to have. She is always ready to take part in whatever plans her friends have.
9. She is witty and funny
It goes without saying that it is difficult to find someone as witty as Monica. She not only laughs along with you but she also knows to laugh at herself. Her sense of humour is impeccable and we have many proofs of it throughout the series.
And for the record, she is good with sarcasm too.
10. She considered her friends as her family
For Monica Geller, her friends were perhaps more important than her family. She was not even half as close with her family as she was with her friends. Even Ross is her friend first and then her brother.
Remember when she moves out to a new house even there she had a special 'joey' room. And it was a fact which everyone accepted.
Who can forget Rachel's emotional goodbye where she confesses that in the last 10 years whatever happened it happened because of her.
And of course, she married her best friend.
Well, you have to admit that these qualities of her have always made us wish that we too had a 'Monica' in our lives.