The third test match between India and Australia has ended in a draw. But on the third and fourth day of the match, bowler Mohammed Siraj was called 'brown dog' and 'big monkey' by some Aussie spectators. The Times of India quoted a BCCI source saying,
"Siraj was referred to as 'Brown Dog' and 'Big Monkey' both of which are racist slurs. The matter was immediately brought to the notice of on-field umpires. They were constantly abusing Bumrah too. "Actually, the players didn't want to lose focus during the proceedings and decided that the matter would be reported only after the day's play was over. However, umpires have told us that moment anything of that nature happens, the players should report immediately."
India Today reports that on Sunday, play was halted for 10 minutes and at least 5 people were evicted from the Sydney Cricket Ground. ICC (International Cricket Council) Chief Executive Manu Sawhney was quoted saying,
"There is no place for discrimination in our sport and we are incredibly disappointed that a small minority of fans may think that this abhorrent behaviour is acceptable. We have a comprehensive Anti-Discrimination Policy in place that Members have to abide by and ensure is adhered to by fans and we welcome the action taken by ground authorities and Cricket Australia today. We will provide Cricket Australia and the relevant authorities with our full support in any ensuing investigation as we will not tolerate any racism in our sport."
Cricket Australia tweeted this statement:
We have launched an investigation in parallel with NSW Police following a crowd incident at the SCG today. Full statement 👇 pic.twitter.com/D7Qu3SenHo

— Cricket Australia (@CricketAus) January 10, 2021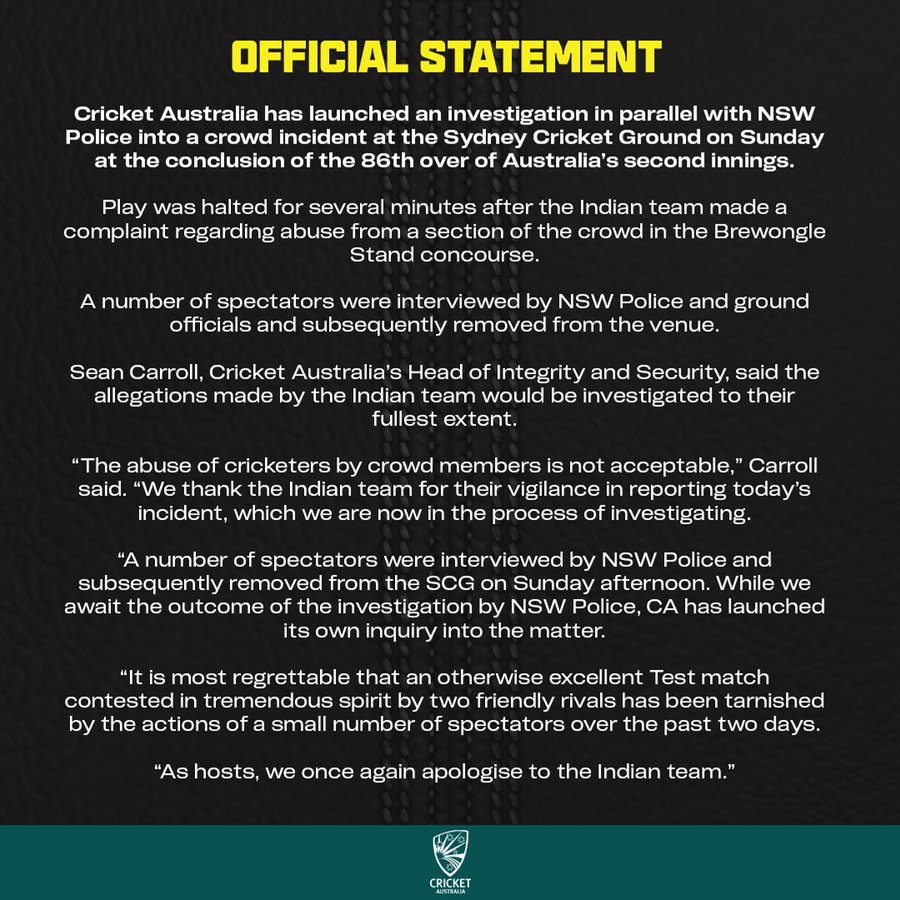 Many Indian cricketers have taken to Twitter to condemn the unfortunate incident.
I hope these incidents of racist abuse are investigated and addressed immediately. Apparently it isn't difficult to find out who these idiots were. Expecting a quick resolution because that is what Cricket Australia would want too.

— Harsha Bhogle (@bhogleharsha) January 9, 2021
Very unfortunate to see what's happening at SCG. There is no place for this rubbish. Never understood the need to yell abuse at players on a sporting field.. If you're not here to watch the game and can't be respectful, then pls don't come and spoil the atmosphere. #AUSvIND

— VVS Laxman (@VVSLaxman281) January 10, 2021
Disappointing to see that my teammates were subjected to racial abuse repeatedly in Sydney. There is no place for racism in today's world and it is not acceptable. I hope that strict action is taken against those who misbehaved. #TeamIndia pic.twitter.com/pKZA9Y0gfv

— Mohammad Shami (@MdShami11) January 10, 2021
Tum karo toh Sarcasm , aur koi Kare toh Racism .
Very unfortunate with what some of the Australian crowd has been doing at the SCG and spoiling the vibes of a good test series. pic.twitter.com/mrDTbX4t7i

— Virender Sehwag (@virendersehwag) January 10, 2021
I personally have heard many things on the field while playing in Australia about Me My religion My colour and much more..This isn't the first time the crowd is doing this nonsense..How do u stop them ?? #AUSvIND

— Harbhajan Turbanator (@harbhajan_singh) January 10, 2021
The incident needs to be looked at with absolute urgency and seriousness and strict action against the offenders should set things straight for once.

— Virat Kohli (@imVkohli) January 10, 2021
However, some cricket fans from down under have wondered if the Aussie accent was misunderstood by the players.
Racism has no place in society or sports and if found guilty, these spectators should be banned for life. However, no one should be termed as racist without substantial proof. Just ask Siraj what comments were being made. It's a possibility that Siraj dint pick the Oz accent.

— GD🇮🇳🇦🇺🇫🇷 (@DabralGunjan) January 10, 2021
Highly unlikely the white aussies racially abused. I have been living in Australia for over 15 years… More than likely it is a cultural misunderstanding

— AK (@Abhikrishnaku83) January 10, 2021
I was fully expecting to click this article and read that fans were being racist. But no. Seems that Siraj can't take a bit of crowd banter. What a sanitised humourless world people want to live in.

— 💧Leanne C 🐦BentleyFrench (@Leanne61409785) January 10, 2021
But Indian fans have reiterated saying banter is very different from racist abuse.
@Leanne61409785 you come to India along with your team to spectate! We will let you know what a banter is and how @CricketAus takes it 🙂

— Deepesh Agarwal (@being_agarwal) January 10, 2021
Respect from India ✊🏾

Though we are rivalries in the game, we always love Australian players very much. Also Australian is been a tremendous place to hang around. Let's uphold the humanity first. No one is superior and no one is inferior.

— Vignesh Elango (@vigneshelango28) January 10, 2021
The investigation follows an official report by the Indian team management to ICC Match Referee David Boon. What do you think of this incident?