On Saturday, the former chief of the IOA (Indian Olympics Association) and former chairperson of BCCI, Sharad Pawar visited Pune's Shiv Chhatrapati Sports Complex along with Maharashtra Sports Minister Sunil Kedar, Minister of State Aditi Tatkare, and other Maha Vikas Aghadi leaders to review the work of the under-construction International Sports University.
शिवछत्रपती क्रीडा संकुल म्हाळुंगे बालेवाडी पुणे येथे उभारण्यात येणाऱ्या आंतरराष्ट्रीय क्रीडा विद्यापीठाच्या जागेची पाहणी व साधने-सुविधांबाबत क्रीडा-युवक कल्याण मंत्री @SunilKedar1111 व राज्यमंत्री @iAditiTatkare यांसह वरिष्ठ अधिकारी तसेच विविध क्रीडा-तज्ज्ञांसमवेत चर्चा केली. pic.twitter.com/nw9AzfswA5

— Sharad Pawar (@PawarSpeaks) June 26, 2021
However, images soon surfaced online of their cars parked on the racetracks of the sports stadium in Pune's Balewadi area.
Vehicles were allowed to be parked on cemented tracks as Pawar Sahab had an issue with his leg. It was allowed so that he doesn't face problem in walking: Maharashtra Sports Commissioner to ANI on VVIPs' cars parked on athletes' race track in Pune's Shivchhatrapati Sports Complex pic.twitter.com/P4Zm9KtQQs

— ANI (@ANI) June 27, 2021
As per a report in NDTV, the ministers allegedly did not want to use elevators to reach the meeting room on the second floor of the sports center. Hence, to avoid the inconvenience, the ministers decided to take their cars up to the second floor of the complex and park on the track. The cars were reportedly parked up until the meeting ended.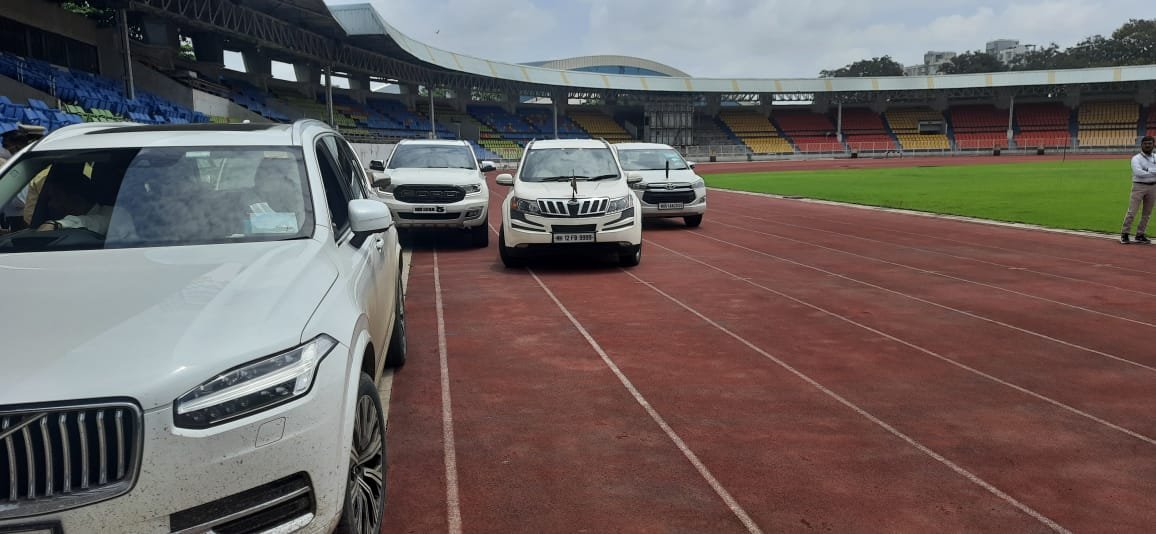 Sports Commissioner of Maharashtra, Om Prakash Bakoria, said that Mr. Pawar was allowed to park his car on the cement track since he had issues with his leg. However, other cars simply parked without permission, India Today reports.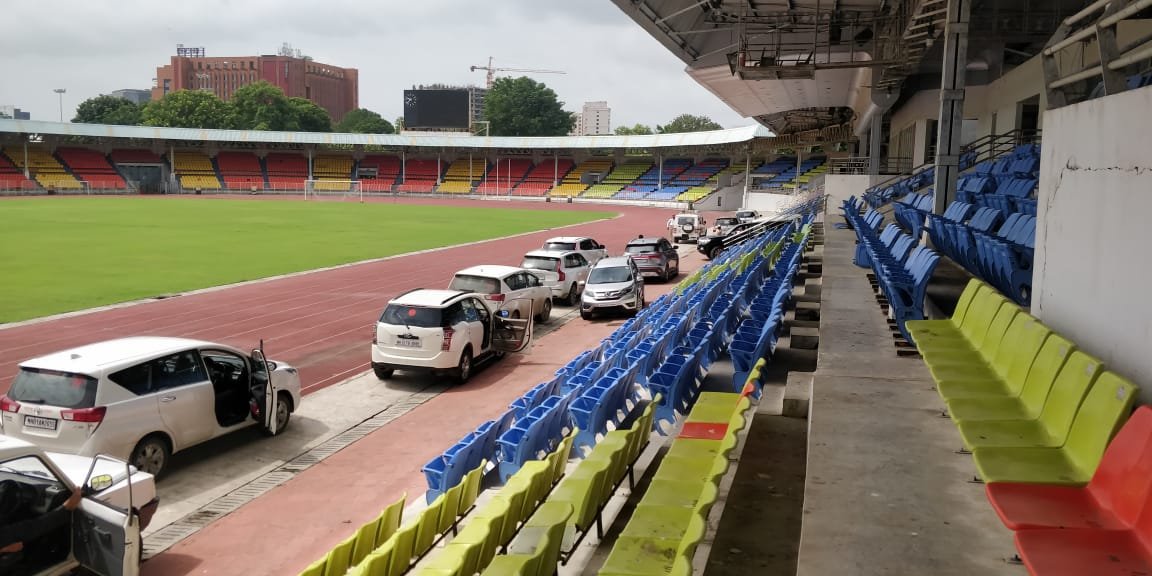 Times Now reports Bakoria stating "Pawar Saheb has an issue with his leg, if he was taken from another side he would have to climb two to three staircases hence only his vehicle was allowed. The vehicle was allowed on cemented track only and guards on duty were informed the same as well. But unfortunately, the vehicles came in a row (on track). It was allowed just to make site he does not face problems in walking. On behalf of the sports department, I apologise for it and assure you that such an incident will not be repeated again."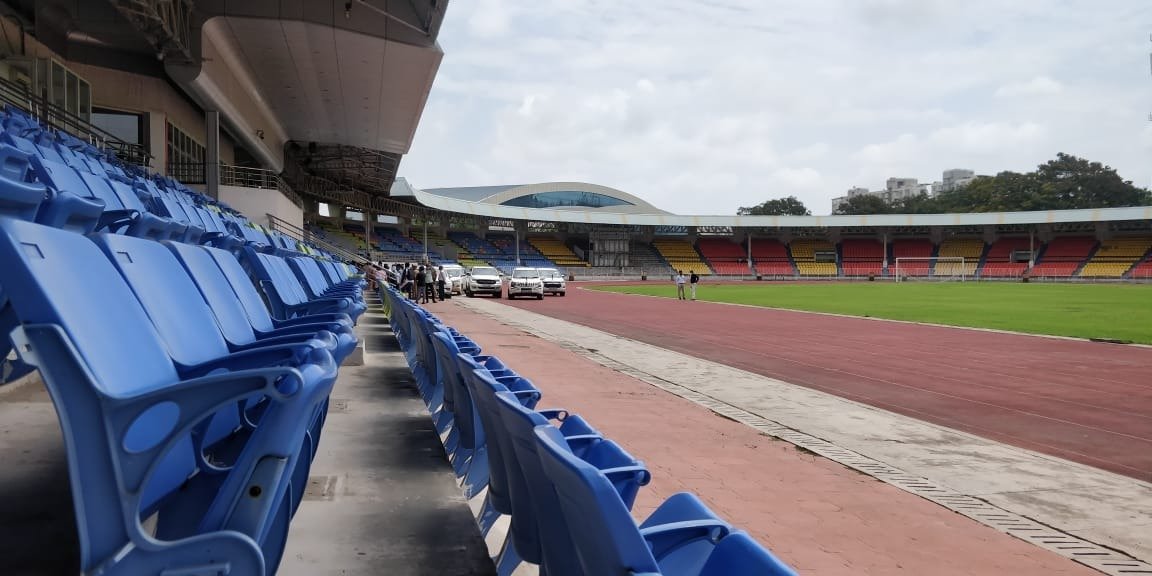 Current Union Sports Minister Kiren Rijiju tweeted on the issue, saying that it is "very sad" to see this:
I'm personally very sad to see such disrespect for sports and sporting ethics in our country. https://t.co/XV47LRckmJ

— Kiren Rijiju (@KirenRijiju) June 27, 2021
As it is we are lacking in sufficient sports facilities in our country. All the sports centers need proper care. https://t.co/yZz9wP0mr3

— Kiren Rijiju (@KirenRijiju) June 27, 2021
Here's how people online responded:
Wont this destroy the track's surface? In our school we were not even allowed to run on these kind of surfaces with hard soles, had to be sneakers. These are radial tyres.

— Mohan Phadnis (@mohanphadnis) June 27, 2021
This cars can actually damage the track, don't know who would foot the bill later to relay the track again.

— Hiru 🇮🇳 (@hirushah9) June 27, 2021
Who allowed the crooked lips to drive there? Are there any protocols as to what needs to be done.
Everyone involved should be made to pay hefty fines and cost of any repair work should be collected from all involved.

— dmishra2000🇮🇳 (@dmishra2000) June 28, 2021
Really sad to see how these ministers and VIP's are showing responsibility towards sports infra in which we already are lacking and if we have something, they do not care. Shame

— raman sandhu (@ramansandhu07) June 27, 2021
Arrogance of power . Make them pay for the damages .

— Rajeswari shankar (@rajishankarmanu) June 27, 2021
Shocking!
Should be penalised with hefty fines.
Better still…deflate the tyres.

— Alpana Chowdhury (@Alpanawrites) June 28, 2021
Inpe chaalan kato koi pic.twitter.com/q7XEpirNCQ

— Avishek Chatterjee (@ReachAvishek) June 27, 2021
We Indians doesn't know the value of sports and sports arena. That's why we are still dreaming for a gold medal in olympics. Try to respect sports arena and sports persons.

— Prabhu Dhanushkodi (@PrabhuDhanushk1) June 28, 2021
The Pune administration too, put out a formal apology. "The incident has been noted by the Sports Minister and instructions have been issued to make sure that such an incident is not repeated again. Going forward it will be made sure that vehicles are not allowed at an athletic track."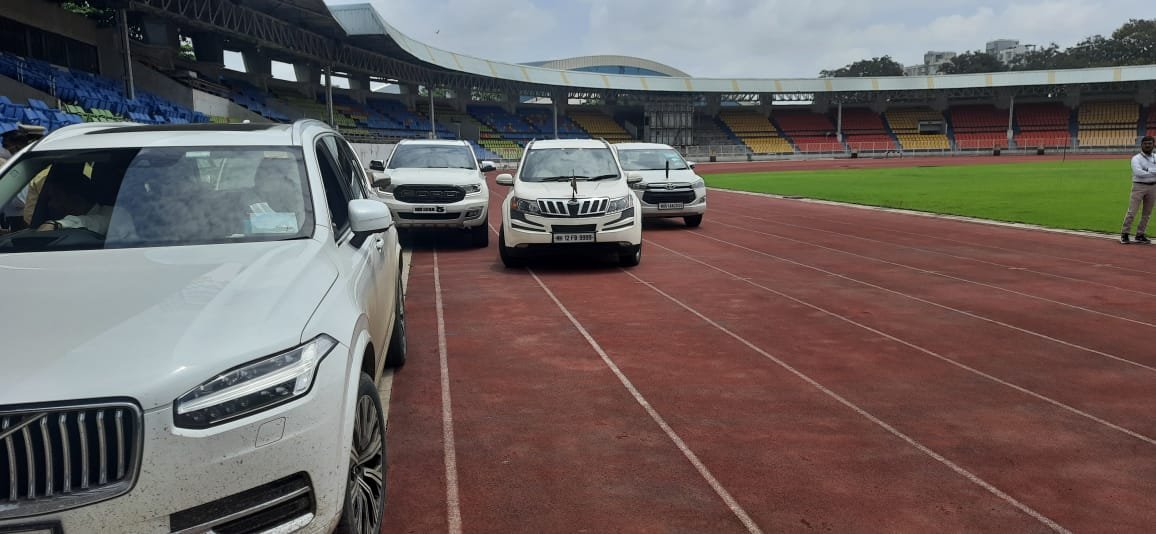 What do you think of this whole issue? Do you think the presence of these cars on the tracks is justified? Share your views in the comments section.