Open social media and you'll probably find either someone getting married, announcing their pregnancy, or welcoming their newborn with some adorable photos. Well, this trend of having a dedicated photoshoot for every occasion has taken over us. But we are sure you haven't seen anything like this unique maternity shoot.
A dog lover recently organized a maternity shoot for a pregnant dog that she rescued from the streets.
A couple of days after picking the mommy-to-be named Lily-Mae from the streets, Caitie Evers decided to have a maternity photoshoot to promote animal welfare and encourage people to treat the animals well, reported Metro Online.
"Lily-Mae got pregnant on the streets and it's really lucky that we found her when we did. If she'd have given birth without a proper home the pups would not have survived. They wouldn't be able to handle the cold and probably wouldn't survive disease," Caitie said.
She added, "It was my own idea to do the shoot, I've always wanted to do one because I thought it'd be a fun thing to do. My friend is a photographer so we headed up to our local park and just played about with some shots. They turned out really well, Lily-Mae seemed to have a good time."
"Hopefully, it grabs people's attention to the seriousness of being a stray dog. It's especially bad in Houston, we have around one million stray dogs. 'Life on the streets for a pregnant dog would be incredibly tough."
A teacher and animal foster carer, Caitie from Houston, Texas, dressed the golden retriever in a tiara made out of flowers and a cape.
Caitie also posed with Lily while holding the dog's mock sonogram.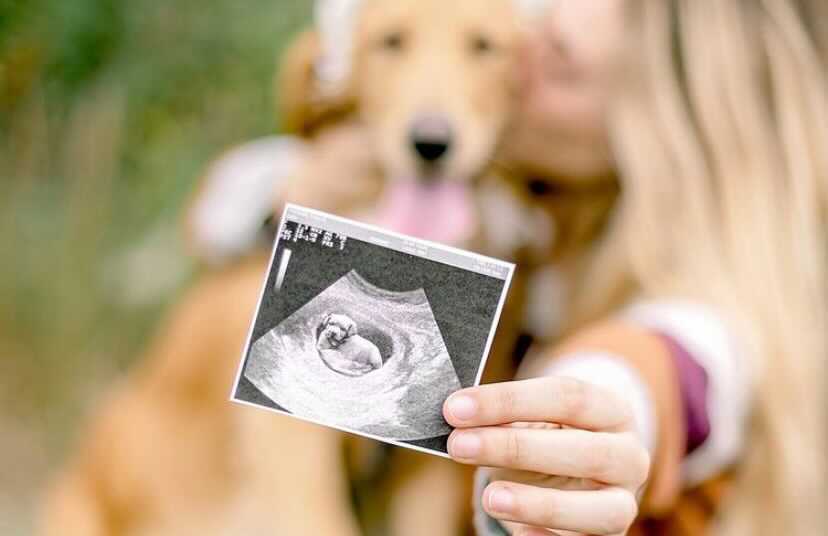 Caitie's photographer friend Shauna Kiely recently shared the pictures from the adorably unique photoshoot.
Three days after the photoshoot, the one-year-old dog gave birth to a litter of eight puppies, reported NDTV. Once she recovers, Lily-Mae along with her puppies will be open for adoption.
Earlier, a Mumbai couple also organized a traditional Indian 'godh bharai ceremony' for their pregnant doggo. Hats off to such people who treat their pets like their family members.