"What's it about the fireworks?" *Christian Grey's voice* #Facepalm
I mean, you have to agree that the prettiness of the sight is something that ushers emotions in us. And, we all love it. You know something else humans (particularly the procrastinators) love? Jellyfish!
Didn't we adore Squishy in Finding Nemo?
And, and, and, of course, the Blue Jellyfish "No Name" aka "Friend" SpongeBob met?
Yeah! Kyoot, na?
I, toh, feel like a jellyfish all the time because of my jelly-like body structure. JK! 😛
Right now, winning the Internet is this piece of nature's wonder. A very rare species of jellyfish – Halitrephes Maasi jellyfish- has been spotted in Mexico.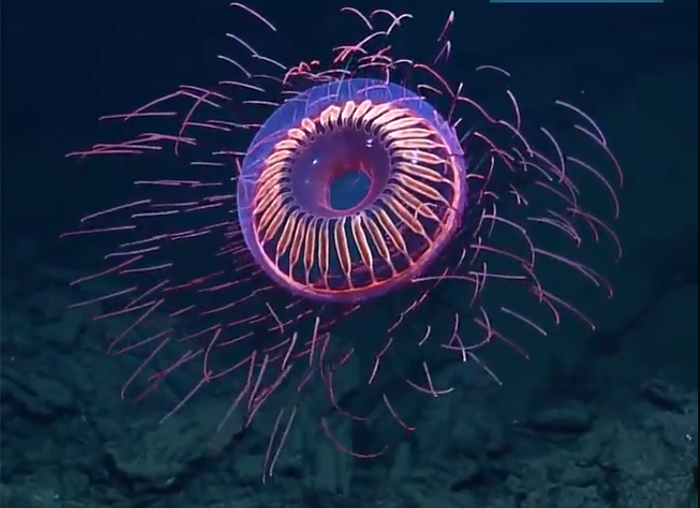 It was spotted at Socorro Island, Mexico, by researchers.
This was just one of the dozen spottings of this 'firework' jellyfish, which was seen drifting at a depth of almost a mile (1609 m).
Researchers spotted this incredibly rare jellyfish almost a mile below the ocean's surface near Mexico. pic.twitter.com/u8VEZREM3V

— Business Insider UK (@BIUK) January 12, 2018
Wow! Isn't that amazing.
The colourful demeanour is because of reflection of light. It floats unseen without it's light.
This is so surreal. And, netizens are amazed, too.
1. Indeed, it is.
This is the most beautiful creature I've ever seen https://t.co/z33ZAIY3qp

— ✧𝒜𝓁𝑒𝓍𝒾𝒶 𝒿𝒶𝒹𝑒✧ (@lexbbyxx) January 12, 2018
2. Alien? Is it? Really?
It's almost like she landed from some other planet 💕

— Kiran (@k_kaur) January 12, 2018
3. Truly incredible.
Beautiful ! The incredible world beneath the ocean that humans have yet to explore-amazing isn't it? https://t.co/WeLs3qXgf6

— Amrapali Choudhury (@Amrapali_c) January 12, 2018
4.*cries in a corner*
— Mark Ramsey5 (@MarkWRamsey86) January 12, 2018
5. Me too!
I wanna touch it pic.twitter.com/Jr6y4uIXJG

— Liz Jenkins (@ej11lizzie) January 13, 2018
For desis like us, it almost looks like a lit charkhi.
Is the Jellyfish singing, "Baby I am firework?" #JustThinkingOutLoad