Maryam Asif Siddiqui might have been a regular 6th Grade student but she's not.
The 12 year old from Cosmopolitan High School, Mira Road, Mumbai, recently won the GCL – Gita Champions League
She competed against more than 4000 participants in the Gita Champions League which was organized by the International Society for Krishna Consciousness (Iskcon) in January.
The 100 mark multiple choice questions based test, evaluated children on their knowledge of the Gita. Maryam studied material that was provided by Iskcon for almost a month before giving the test in English.
When asked what motivated her to participate in the competition she said, "I have always been inquisitive about religions and I often read up on them during my free time. So when my teacher told me about this contest I thought it would be a good chance to understand what the book is about. My parents too supported my idea of participating in the contest"
Her curiosity was driven by the fact that she: "tried to understand what the Gita tries to tell us. The more I read about different religions, the more I have realized that humanity is the most important religion that we must follow".
When asked what had fascinated her most about the Geeta she said, "Lord Krishna." "He was so knowledgeable and cool. He taught so many nice and good things to Arjun."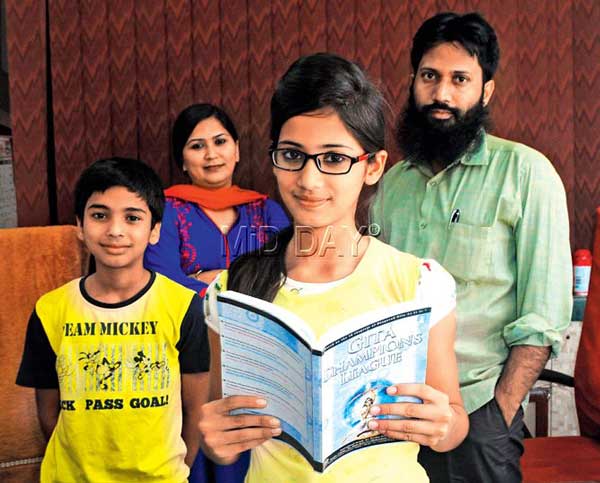 It's no wonder that Maryam's different thinking originates from her family and her father.
"Our family believes that one needs to respect and accept all religions. No religion preaches hatred or wrong. However, there are some members who have misguided us. Before these have a bad influence on the children, we need to talk to them and make them understand what is right," said her father, Asif Siddiqui.
She recieved her prize on March 15th and was pretty surprised when leading daily Mid-day covered her story. She asked, "Why should I be any different? Why treat me differently just because I am from another religion? Even in school, we have never treated each other differently on the basis of caste or religion."
Maryam Siddiqui: a Muslim & winner of an ISKCON contest on the Bhagavad Gita. The Indian way: Respect for all faiths. pic.twitter.com/KsU0wAoFze

— Amish Tripathi (@authoramish) April 3, 2015
At a time when the mature, sensible people in the nation practice pseudo-secularism, 12 year old Maryam Siddiqui comes as a breath of fresh air and a lesson to many who staunchly believe in religious fanaticism.