Plenty of people stepped into 2019 with the resolution that this was the year to be fitter and lead a healthier lifestyle. While most of you are probably slouching on your couch reading this, it is no news that this particular resolution turned into a complete fail!
And to those who truly stuck on to their fitness goals, we really want to know how you do it!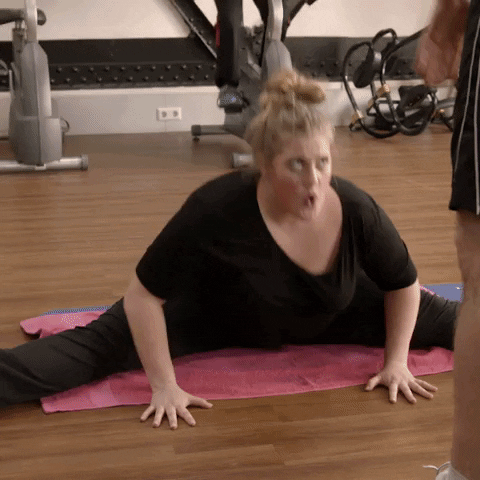 Mandira Bedi recently posted a picture on Twitter showing off her hot biceps, giving us all the fit-spiration we need.
The 46-year-old actress has dedicated a lot of time and attention into her body and health for quite some time now. But this seems to be the best shape she has been in!
Mornin' pic.twitter.com/wuG6pQcOoj

— mandira bedi (@mandybedi) April 12, 2019
I'm seriously drooling over those biceps!
However, people of the internet were divided over her muscular avatar. Of course, there were some who weren't pleased by her appearance because it didn't resemble their idea of female beauty, because apparently muscular women don't look attractive.
And soon WWE jokes began to flow.
Let me introduce the next WWE contestant 😂

— raaghav kohli (@itsraaghav) April 12, 2019
Kya body banayi hai bade bhai ne , ekdum kadak .

— The Lal Mama (@iDALALMAMA) April 12, 2019
Mandira be like: Thanks SRK for rejecting my love in DDLJ!

— Raju Pahadi (@RajuPaahadi) April 12, 2019
Bodybuilding participant representing India !! 🙂

— SUMEET (@Sumeet_Tambi) April 12, 2019
Do men find it sexy ??
Just pooching..🙄🙄 https://t.co/nD6R3RgKSZ

— 🕵️Chowkidarni Mօɖɨʄɨɛɖ Rɛռʊ 🇮🇳 (@renu_18) April 12, 2019
@WWE Calling !

— Mohammed Azeem Uddin (@princeeazeem) April 13, 2019
Pls do yoga with strength training. Just a suggestion.

— sarfraz ahmed (@sarfraz92624846) April 12, 2019
Repulsive…

— Chowkidar Kausik Bhowmik 🇮🇳 (@BhowmikKausik) April 13, 2019
But there were many who saw her as an inspiration and are willing to hit the gym!
Damn full power … im goin to do some pushups on the studio now

— Salilacharya (@Salilacharya) April 12, 2019
I am inspired mandira . Thanks a ton

— ViVi (@vivek2223) April 12, 2019
— Sarcastic Psychopath (@Psych0Sarcastic) April 12, 2019
Beauty with muscles..God bless…

— sarvjit khurana (@sarvjitkhurana) April 12, 2019
super!!!!! made my day!!!! what a powerful picture!!!!

— Bhavi (@bhavinder) April 12, 2019
You are an inspiration to both men and women. That's awesome .

— The Pankh (@TPankh) April 12, 2019
Muscles more then me …😂😂
Kal se Gym pkka 🙄

— Puneetsharma (@PuneeRcc) April 12, 2019
You're absolute positivity.

— Tash ♥ Eeps (@BadassNemesis) April 12, 2019
Me like………. How ?
👍 pic.twitter.com/2EjwKn4umG

— bala thamidisetty (@thamidisetty) April 12, 2019
Ok! Now I will be less lazy. Fabulous and way to lead Mandira💪🤜👍👍

— Lazy Chaukidaar (@colorfulmonk) April 12, 2019
Many female celebrities are breaking stereotypes regarding beauty by carving their own fitness paths. They are running the extra mile and redefining fitness for women. Kudos to Mandira for doing the same!
Cover Image: Source