The character of 'Phunsukh Wangdu' from the 2009 blockbuster '3 Idiots' is immortalised in the minds of the audiences. While, Aamir Khan who played the part, did an outstanding job, the real-life inspiration was an engineer from Leh named, Sonam Wangchuk. The man is the brainchild behind many scientific innovations and is known to be resolute.
In a feat of global recognition, Sonam has bagged the prestigious Rolex Awards for Enterprise 2016 for his project, 'Ice Stupas'. The awards were presented on Tuesday in Los Angeles.
The laureates are considered to be a coveted philanthropic programme that acknowledges and applauds efforts by individuals who are making a difference to mankind. His project is joined by four other winners at the awards this year.
The 50-year old engineer created artificial glaciers or the 'Ice Stupas' to help, solve the problem of lack of water for agriculture in the desert landscapes of the western Himalayas.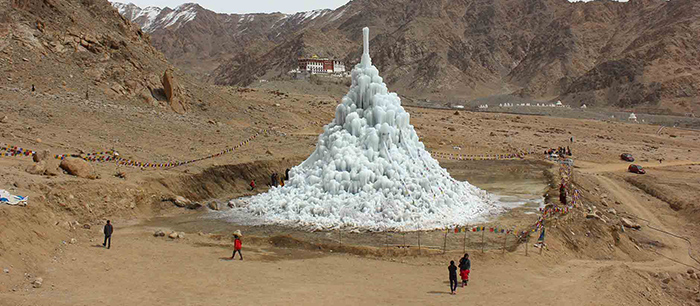 He was certain that villages in Ladakh could be improved if the huge seasonal outflow of glacial water could be frozen.
Sonam is also helping farmers in the arid Himalayan highlands to meet water deficit by tapping meltwaters to build artificial glaciers. In a statement issued by Rolex, Sonam was quoted saying, 
"The Rolex Award funds will support the project and promote ice stupas as a climate-change adaptation and desert-greening technique."
You have made us proud, Sonam. Thank you for setting the right example for us. We need more like you!
News Source: NDTV and Rolex Awards