It's not easy to elicit a mic-drop worthy applause from a huge crowd when you're not a professional rapper. But then again, it has been prophesised that the geek shall inherit the earth; so what's killing it at a rap battle for them, huh? Stars of the popular show The Big Bang Theory, Kunal Nayyar aka Rajesh Koothrappali and Mayim Bialik aka Amy Farrah Fowler proved this point on Drop The Mic!
Based on a fan favourite segment of The Late Late Show With James Corden, TBS' Drop The Mic is a TV show that invites all kinds of celebrities to go up against each other in a rap battle!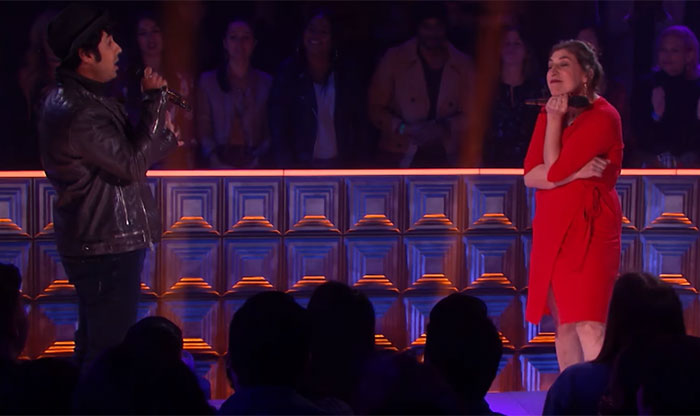 The winner is then determined by hosts Method Man and Hailey Baldwin based on which of the two competitors got the loudest cheer from the audience!
The latest episode saw Kunal Nayyar and Mayim Bialik rap-battle it out over three rounds and can I just say, their savagery brought the house DOWN! True to their show's title track, it all started with a Big Bang with Kunal drawing first blood!
He began by taking a dig at her title role in NBC's TV show Blossom.
Fans of the show are aware that Mayim is the only actor on the cast who actually has a PhD! That too in neuroscience, just like her character. So of course, that came up!
"She left TV for a PhD, I swear. She came back to act. Nobody cared!"
But Mayim! Phew! She hit back right where it hurt by mocking Kunal's accent and a savage jibe at the fact that his wife is a Miss India!
As for Round 1, it all ended with a BIG BANG from Amy!
"I'm here to win this. So I hope that you hear me. You're a tiny star. I'm the Big Bang Theory!"
It looked like Kunal Nayyar desperately needed to up the ante for Round 2, which BTW he totally did! He brought it ON by pretty much annihilating Mayim's name!
Can you imagine telling your co-star on a comedy show that she isn't funny enough! Oh Kunal!
"You have a PHD. So answer me this, honey. You can deconstruct an element. Why can't you be funny?"
Did you think Mayim was going to take that? Hell no! She returned with a fiery burn about Kunal's acting gig!
"Kunal's a good actor; I can't be rude. I love him on Silicon Valley. Wait, wrong dude!"
Oh but you wait! She hit the ball straight outta the park when she hit two birds with one stone: Kunal's last name and POTUS Donald Trump! It was so, so on point that even Kunal had to agree!
Whoa! It was definitely getting hot in there because both these actors were pure FIRE! But Round 3 was where they practically DESTROYED each other! Homeboy Kunal Nayyar literally 'nose'dived into a pool of savage insults for his co-star!
Mayim had to bring the roof down on this one. And boy, did she!
But it was her final attack that sealed all deals. She pretty much BURRIED him!
You know what? Better than me telling you, why don't you just watch the whole battle leading up to the EPIC grand finale and the crowd favourite winner!
OMG! We're not worthy! Still, here's a little offering that sums up how I feel. Gimme a beat, guys!
It started with a Big Bang, you guys pretty much killed!
But right from the first one, the winner was sealed.
Kunal Nayyar, you were awesome, you could definitely win!
But you so savage, Mayim Bialik, you make me say, "Yaaaaas Queeen!
*mic drop*