Desi people just love to gossip at weddings, don't they? From criticising the food to joking about the bride's physical appearance to shaming how the groom has a receding hairline, Indians love to pluck minute details that aren't perfect in their eyes and shame them for their own entertainment. This is an extremely unpleasant thing to do and leaves bitter memories for the bride, groom, and their families.
Speaking of which, an Art Director from Kolkata was recently trolled online for marrying an 'overweight' man. People took their wedding pictures off Facebook and posted them in other pages with deplorable captions expressing how unlikely it is for an attractive woman to choose an 'overweight' groom.
The woman, Ekta Bhattacharjee, took to Facebook to address the issue and said:
"I have been facing this since the very first day of my relationship. It's been 11 years and I find these more than amusing. My choice of dating an overweight man was questioned and mocked innumerable times. I kept on ignoring."
When a friend of her's shared a link with her which led to a post trolling the newly-wed couple, Ekta revealed how her husband reacted:
"A few minutes back my crazy man told me NOT to report this page. He said 'It ain't a big deal for me. There are so many people who love me. That's more important than anything else. And these people are just jealous because I got a beautiful wife, baad de (leave it)'."
She shared screenshots of people trolling their pictures and leaving mean comments. Have a look: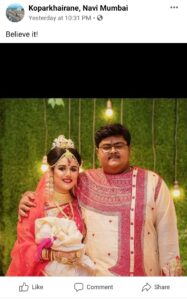 People, including prominent figures from the Bangla film industry, took to the comment section to extend their support for the couple. Many expressed how people are so lonely themselves that the only thing that makes them feel better is spreading negativity in other's lives.
In a later post, Ekta thanked everyone for the support, love, and blessings. She wrote:
"It's so easy to love a benevolent man who kills with his kindness. We have received an enormous amount of support in the last 48 hours. Hugs and gratitude to each one of you. For self, for others and for life…let love lead the way."
There is a popular belief in the stream of human psychology which states that how we react to things is a reflection of our own inner workings. Being spiteful towards other people's choices is nothing but a manifestation of our deep-rooted issues. Instead of shaming and trolling people for personal choices which make them genuinely happy, can we, as a society, be more accepting and inclusive of people? Instead of trying to find imperfections in other people's lives, can we look inwards and work on our selves?
Having said that, kudos to the couple for standing up to trolls so gracefully!