Many people have embarked on a difficult journey after losing their livelihoods to the coronavirus pandemic. Last year, the plight of a hotel musician named Bhagwan Mali surfaced on social media with several people sharing his soulful renditions of old Hindi songs on the streets like 'Ajeeb Dastaan Hai Yeh', 'Deewana Hua Baadal,' etc. after he too was left unemployed. People online were bowled over his beautiful musical talent, and his videos became popular.
The man playing the violin so beautifully is Bhagwan Mali, a street musician from Malda, West Bengal.
A real musician in the era of duplicates & remixes. Adding only those who I know really care @VishalDadlani @DrKumarVishwas @ShekharRavjiani @AjayAtulOnline @maliniawasthi pic.twitter.com/VYl6k27yCc

— ashutosh singh (@ashutoshspeaks) June 29, 2020
Now, Kolkata's Commissioner of Police Soumen Mitra invited Mali to his office to give him a surprise gift. As a token of appreciation for his talents, he gifted him a violin and the city's Community Policing Wing would also provide him with some much-needed financial assistance, Times Now reports.
Meet Mr. Bhagwan Mali, who is a very talented musician.Few weeks ago, a video of him playing his violin in the city streets, had gone viral on Social Media.Last week, he was financially assisted by our Community Policing Wing. Today, @CPkolkata gifted him a new violin. pic.twitter.com/750lYhZX0x

— Kolkata Police (@KolkataPolice) June 28, 2021
Furthermore, the local police in the Burtola area of the city have provided him a place to stay for now. Originally hailing from Gujarat, he used to perform for tourists in Siliguri and Darjeeling. Unfortunately, he had lost all his earnings when the pandemic hit and had to live on the streets with his wife and play music to make ends meet.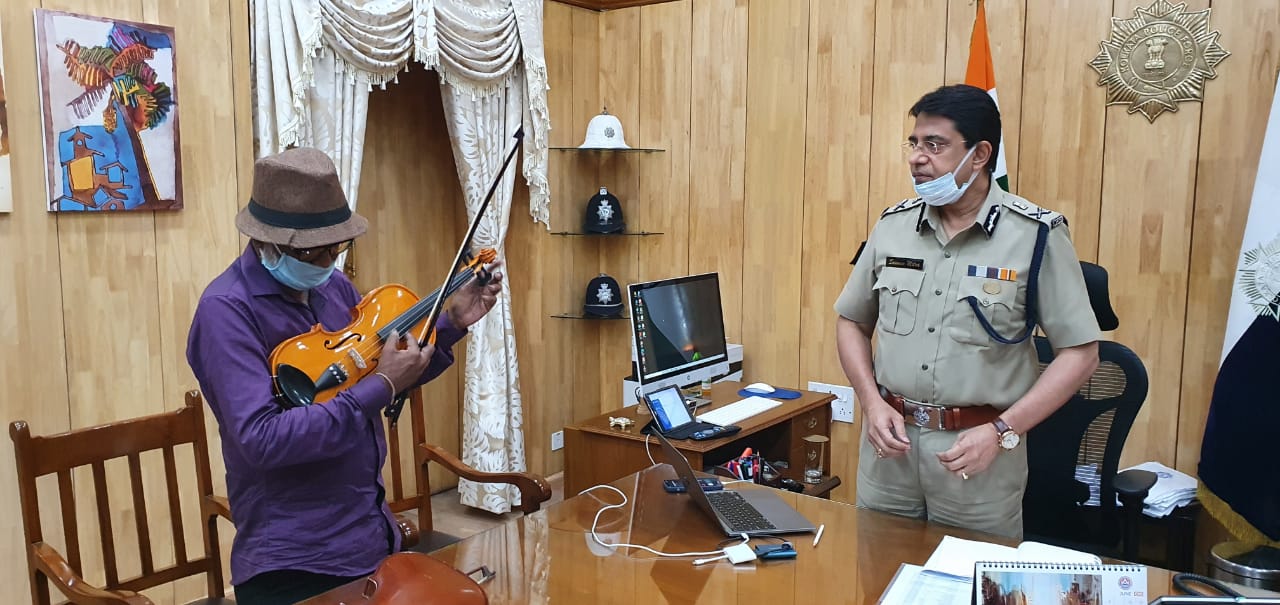 The sweet gesture on behalf of Kolkata Police received praise from people online:
Wow this is so nice to know that he is from our city.
The #CityOfJoyKolkata
Salam hai Mr.Bhagwan Mali k #talent ko
Good Job #KolkataPolice
👍👌

— Uroosa Arshi (@SHAYARA_UROOSA) June 29, 2021
Fantastic
This kind of things can make our society beautiful
And congrats to Mr. Mali for such kind of gift from police family

— Somidh (@Somidh2) June 28, 2021
Good to see the human face of Kolkata Police!
My Salute!

— Sultan Osman (@sultanosman2008) June 29, 2021
The Policing we need.

I strongly believe we need more public oriented Policing, such police public interaction will help the police to serve the community better.
Good job @CPKolkata https://t.co/BMdcXccj5B

— Akash Ganguly (@nemolegal) June 29, 2021
We hope that Mali gets to stand on his feet again soon. Kudos to Kolkata Police!