Who would have thought that life of a dictator could be weirdly hilarious until Kim Jong-un came into the picture! The deeds of the current Supreme Leader of North Korea have broken several records of craziness. But before we go on to reading about his nonsense badassiyat, let's know a little bit about his family.
He is the son of Kim Jong-il, his late father and former leader of North Korea. With all due respect to their oddball lifestyle, his father was a superhuman, who as they say, never defecated!
So yeah, carrying the genes of a superhuman father, it is only natural for the son to possess some extraordinary qualities, like:
1. He attended school in Switzerland secretly as "Pak Un"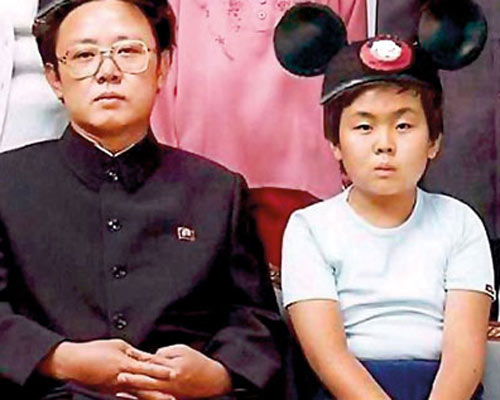 Apparently, he was a big zero in his academics. He never passed any exams and stayed fascinated with basketball (he still is a big basketball fan, by the way) and computer games. The situation went so bad that his father had to take him out of the International School of Berne and got him an admission in a state school, where he was put in a low-tier grade.
His headmistress introduced him to class 6 A as Pak Un from North Korea, and the son of a diplomat.
2. At 27, he underwent plastic surgery to allegedly resemble his grandfather Kim Il Sung
Who says plastic surgery is a hit way to look younger? In Kim Jong-un's world, it means the opposite.
3. At 29, The Onion newspaper announced him as the "Sexiest Man Alive" for the year 2012.
Photograph: Wong Maye-E/AP
And then they told the world just how much he deserved it,
"With his devastatingly handsome, round face, his boyish charm, and his strong, sturdy frame, this Pyongyang-bred heartthrob is every woman's dream come true."
4. They say he may be the youngest world leader, although, no one is sure of his actual age
They say he was born in either 1982, or 1983, or 1984.
5. His severe addiction to Swiss cheese can be seen all over him
During his schooling in Switzerland, he developed a strong liking for Swiss cheese. Apparently, North Korea government spends tens of thousands of pounds per year on Swiss cheese import to keep the Supreme leader satisfied while the country starves.
His ballooned-up body and limp-walk caught mass attention and people blamed his love of Swiss cheese for the same. However, some also said that the increased body might be a deliberate attempt to look more like his grandfather.
6. When his father passed away, he made sure that his death was grieved wholeheartedly by North Koreans
Everyone cried hysterically. And those who didn't know how to shed crocodile tears, were taught to do so by spokesmodels. Also, those who didn't go to the mourning events were reportedly being sentenced to labour camps for six months.
This wasn't the first time it happened, though. At the demise of his grandfather Kim Il Sung, his father Kim Jong-il made sure that the country grieved massively.
7. And so, when an assistant chief of the Ministry of the People's Armed Forces attended his father's mourning drunk, he was punished by mortar!
He reportedly ordered his execution by saying, "no trace of him down to his hair" should remain.
8. He had his uncle executed, and then his grieving aunt…?
His uncle, Jang Song Thaek, who was second-in-command was found guilty of "attempting to overthrow the state." And so, if reports are to be believed, Kim Jong-un had him executed. His uncle was apparently first stripped naked and then thrown into a cage of ravenous dogs that finished the human off.
And it didn't stop there. There were reports that he allegedly silenced his grieving aunt by means of poisoning because she was angry at her husband's execution. However, there were also reports that she either suffered a fatal heart attack or committed suicide. There was no confirmation about where or how she died.
9. He is a four-star general with no solid background of military experiences
 10. His haircut is pretty popular in the country and even has a name- "Ambitious!"
It was reported that male university students in North Korea were asked to copy his haircut!
What can I say? Like father, like son.