Katrina Kaif is one hard taskmaster! And all of Bollywood will probably vouch for that! But then again, you don't get such killer abs and a perfect figure by slacking at the gym now, do you?
What's more, she's been known to even subject her co-stars and gym buddies to her strenuous workout ethics. Remember when Parineeti Chopra admitted on Koffee With Karan that the moment Katrina walked into the gym, she would increase the speed on her treadmill?
Well, this time, Alia Bhatt got a taste of Katrina's intense training sessions!
On Sunday morning, Katrina Kaif posted a video on her Instagram of her playing gym trainer and motivator to Alia Bhatt, as the latter did squats.
It looks like the actual trainer, celeb favourite Yasmin Karachiwala, was probably a tad bit late for the session. So naturally, Katrina took over the reins!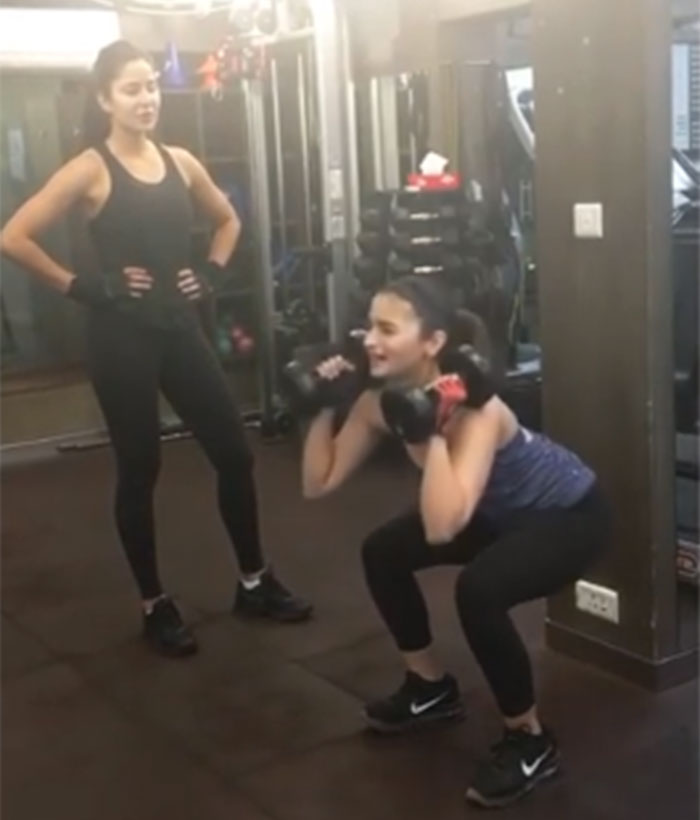 The video begins with Alia doing her 100th squat, which for many of us would seem like #workoutgoals! No sir! Not when Kat is donning the Trainer Hat!
She eggs on Alia to keep going, which BTW, Alia manages to, albeit with Herculean efforts from her end!
If you needed anymore proof about why Kat intimidates her Bollywood gym buddies, watch the video and see for yourselves!
You see that? She isn't just counting down the squats but also instructing Alia about keeping her posture straight, just like a good trainer would.
We wonder how many did Alia manage to do in the end!
Luckily, the REAL trainer finally arrived to save the day (and Alia)! Yasmin Karachiwala shared a video of both the actress working out, but this time, she was the one calling the shots!
And her caption is a sneaky reminder to Katrina about it!
We think Katrina should totally consider an alternate career as a personal trainer, no?
She's already scared most of her younger contemporaries into taking their healthy eating and intense working out seriously. Plus, she's the perfect example of practice what you preach, isn't she?
For anyone who isn't motivated enough to workout, get you a gym buddy like Kat here and let them intimidate you into achieving those healthy and fab bod goals!
100 down, ONLY 300 more to go! Ha!