Kangana Ranaut's latest release 'Manikarnika', which is based on the life of Rani Lakshmibai, the queen of Jhansi, has done a decent job at the box office. Apart from Kangana's expertise as an actress, the film saw her don the hat of the director for the first time in her career and you bet, it was challenging.
While Kangana seems happy with the outcome of her directorial debut, she had to work incredibly hard to pull off the magnum opus. And here is a leaked 'behind the scenes' video which proves that the actress got a fair taste of the extreme detailing that needs to be taken care of, in order to nail a scene to perfection.
In a hilarious video going viral, Kangana can be seen shooting a war sequence. The actress seemed to be seated on a horse but as the camera rolled back we notice that it is actually a manually created moving contraption made to look like a horse.
However, the best was it to come. As Kangana and her 'horse' starts moving forward with the other men on actual horses, her mechanical horse stop midway but continues the galloping action. Without a doubt, the scene was a hilarious one with the crew running in to help the actress!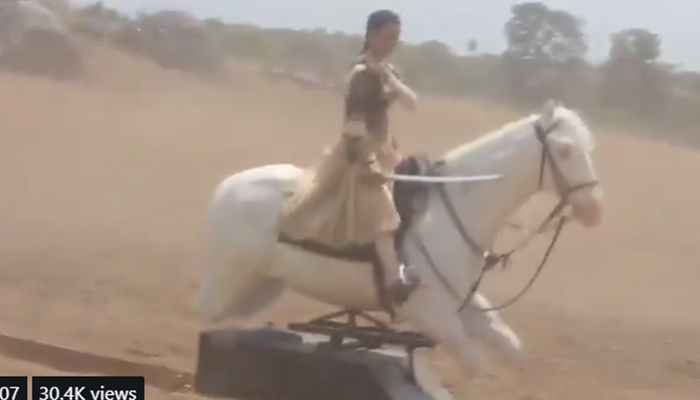 Here is the video:
— Sailing Cloud (@twinitisha) February 21, 2019
Needless to say, the scene served as a heavy dose of laughter for the Twitterati.
Lakdi ka kaathi
Kaathi ka ghoda 😂 https://t.co/4XRL4ARURR

— The Secular Buffalo in Lockdown (@jenaanindya) February 21, 2019
This is why watching the behind the scenes footage is both fascinating and so meh at times. Fascinating because you can just pull off anything. And "meh" because at that stage, the "magic" of cinema is still in a nascent stage. https://t.co/dwppJEJNc3

— Hemanth Kumar C R (@crhemanth) February 21, 2019
And with that my Twitter entertainment of the day is complete https://t.co/juQn6SZa9w

— Rajeev Kumar (@Rajievku) February 21, 2019
On one hand funny, on the other, melting makeup. https://t.co/8IBQiqPKZU

— Naomi Barton (@therealnaomib) February 21, 2019
Lambi race ka ghoda 🤣

— Sailing Cloud (@twinitisha) February 21, 2019
Wow..That escalated fast!

— Sailing Cloud (@twinitisha) February 21, 2019
https://twitter.com/Bharatwasi111/status/1098505644368367623
Arey ghodey ko mirgi ka daura pada…chappal lao jaldi 😁😁😁😁

— Satyakam Ali (@mfarali) February 21, 2019
Koi iss ghode ko band karo beeeeeeee🤣

— Ankit Thakur (@yourankitthakur) February 21, 2019
https://twitter.com/TheCrazy_Freak/status/1098516198520549377
Give her national award for this 😂😂🏇🙏

— 𝓢𝓐𝓝𝓚𝓔𝓣 (@iSanket_363) February 21, 2019
We don't think Kangana would be too happy seeing this. 😛