If you're even remotely active on social media you would know about the kid who has been made into a meme by a lot of pages named Kamlesh, but do you know the story behind the boy who has gone viral and taken meme pages by storm?
Because if you did, you would no longer want to laugh at the statements he is saying and instead condemn those very pages who have made the serious issue, the butt of their jokes.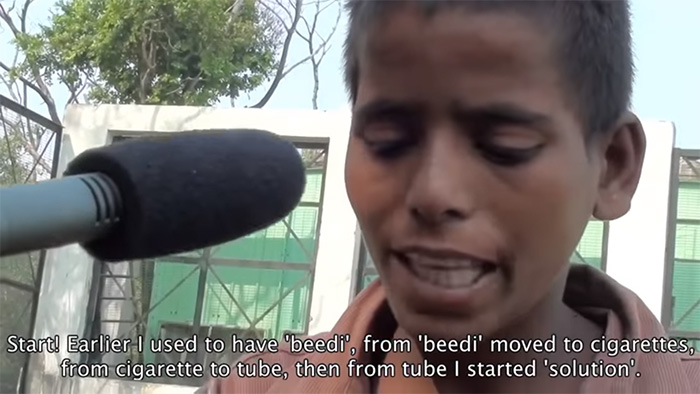 The story of Kamlesh was a part of a documentary 'Nashebaaz- The Dying People Of Delhi', made by Dheeraj Sharma and this particular part documents the life of a 13-year-old addict who can't live without inhaling the drug.
The video goes on to show how he has been inhaling it for about 2-3 years. He resorts to rag-picking as a source of income and spends about 70% of his income on drugs.
He refers to the 'solution' as the most important thing in his life, even more than his family or food. He has gotten addicted to the drug so heavily that if he does not consume it even for a day or two, he vomits blood and gets chronically ill.
The boy states that he does not want to go home because his mother won't allow him to drink solution. Shockingly, the boy is not even scared of dying due to his addiction.
The Director of the documentary, Dheeraj Sharma was approached by Youtuber Divyanshu Damani and he was disappointed that his documentary, which he made to generate awareness about drug abuse has been twisted to get laughs.
In the video, he said,
"Being a director and being a social worker, it is very disheartening to see such memes. It was also very shocking that our society has become so insensitive that it is making fun of a 13-year-old boy who, due to some unfortunate circumstances, has become a prey of drug abuse and is homeless and Leads a pitiful life."
You can watch the entire video here:
The story of Kamlesh needs to go viral but not in the way it has. The purpose of the documentary has been lost due to the irresponsibility of a few pages who did not even think twice before making light of a serious situation.