Results of the first leg of the 'Joint Engineering Examination' (JEE) got announced earlier today. Thousands of students across the nation aspiring to excel in the field of engineering appeared for the examination and among all those, one student achieved what can be only be termed as a 'miraculous result'.
Meet Kalpit Veerwal, a 17-year-old boy from Udaipur who has topped the 'JEE Mains' 2017 exam with a perfect score of 360 for the first time in history! Speaking of his success, Kalpit said,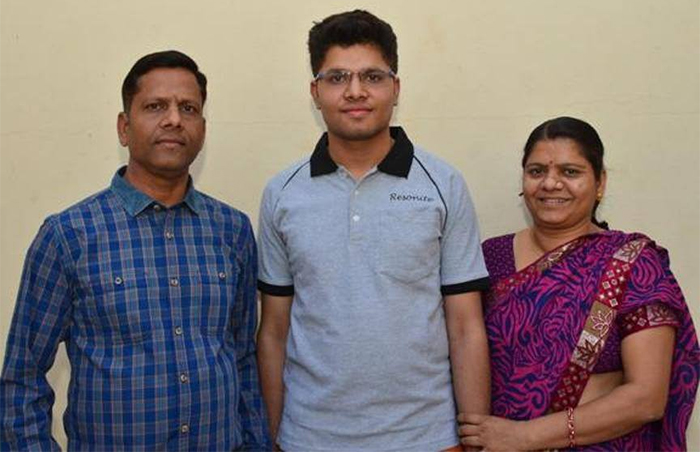 "I always had a feeling that I would get a high score but never expected to get All India Rank 1."
Kapil's father, Pushkar Lal Veerwal work as a compounder at a Government Hospital in Udaipur while his mother, Pushpa Veerwal, is a Hindi teacher at a Government School.
Kalpit received the news from RK Chaturvedi, the chairperson of the Central Board of Secondary Education (CBSE) who personally called him to tell him the result. He has topped the exam in both General and Scheduled Caste categories.
Speaking of his success and interest in the field of engineering, Kalpit revealed the hard work he did from an early age to secure the meritorious position.
"I always had a keen interest in Science and always wanted to excel a career in engineering filed. To achieve my goals in life, I started taking coaching since Class 8 from a renounced coaching centre in the state."
Revealing his 'mantra' for success, Kalpit had an inspiring message for other aspiring students too.
"I studied 6-7 hours a day and took a break for some extracurricular activities like cricket and badminton to refresh my mind. I would advise all the aspirants to do regular studies and should not take studies as burdens rather take it as a challenge."
Now, Kalpit is gearing up for the second leg of the examination, 'JEE Advanced' and we wish him the best of luck for that.
News Source: India Today