I'm sorry to break it to you but the world has gone to dogs. We are monsters, roaming in the guise of humans and there is nothing that can save us from ourselves. If you think I'm a cynic just pick up a newspaper and glance through it.
Not one day goes by when the headlines don't screech dastardly and nightmarish stories. Not one day goes by when our daughters are not molested/harassed/raped/abused. And that is just the tip of the iceberg of atrocities that are reported.
But while my optimism still hoped better, the rape and murder of 7-year-old Zainab from Kasur, Pakistan confirmed my fears. 
The condemnable & horrific rape & murder of little Zainab exposes once again how vulnerable our children are in our society. This is not the first time such horrific acts have happened. We have to act swiftly to punish the guilty & ensure that our children are better protected. pic.twitter.com/9f7OM3hYT1

— Imran Khan (@ImranKhanPTI) January 10, 2018
According to the DAWN, innocent Zainab was abducted from near her house on January 4, where she had been living with her maternal aunt. Reportedly, her parents had gone to Saudi Arabia to perform Umrah (the lesser pilgrimage) and had left their daughter in the custody of her aunt.
After initial reports, CCTV footage of her being led by a suspect was circulated on social media.
The picture of Zainab's rapist & killer is clearly captured. Why he is still roaming freely? Can our agencies and authorities capture him? Can we please catch this animal and punish him publicly? Can we do something to protect our children? #JusticeForZainab#Justice4Zainab pic.twitter.com/Z7GghqvaTd

— Ihtisham ul Haq (@iihtishamm) January 10, 2018
And as unthinkable as it sounds, her body was recovered from a dumpster.
Needless to say, the entire Internet has come together, demanding justice for the little kid who was taken before time and in a heinous way. 
1. 'This has to stop.'
Heartbroken to hear about Zainab – a 7 year old child abused and brutally killed in Kasur, Pakistan. This has to stop. Gov and the concerned authorities must take action. #JusticeForZainab

— Malala (@Malala) January 10, 2018
2. WORD.
Find him!!! Do what it takes to find him and make an example out of him for Gods sake !! An example which scares anyone to even think about doing something like this again. @pid_gov @GovtOfPunjab #JusticeForZainab https://t.co/t0GTUo9AjT

— Mahira Khan (@TheMahiraKhan) January 10, 2018
3. #JusticeForZainab
7 year old Zainab has been raped and murdered. Names change, religions change, nations change, abuse of children continues. #JusticeForZainab should be trending worldover. https://t.co/ca8CnM11Ds

— harish iyer (@hiyer) January 11, 2018
In fact, the word has spread beyond the social media. Media houses and patrons have come to condemn the crime.
But amidst a sea of support, there was one channel and one reporter who put her point across in a way no one could.
Samaa TV anchor, Kiran Naz did a segment where she spoke on behalf of a mother who is worried for the safety of her child. She brought her daughter along to make a point and it will tear you up.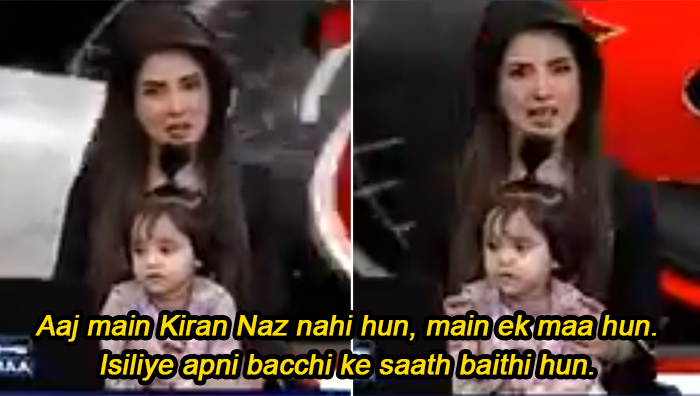 As a mother and a journalist, she expressed the pain and grief that Zainab's fate has brought her and the entire nation that is mourning her loss. She kept talking about justice but is not one that can be bought today for money, but the divine justice that we are all hopeful for.
You can watch the part of the segment here and decide for yourself. 
Not often that you see a TV news anchor bring her own child to her news cast – @SAMAATV 's Kiran Naz did precisely that to make a point about how she felt as a mother in Pakistan #JusticeForZainab #Justice4Zainab pic.twitter.com/6XMXQJmfzV

— omar r quraishi (@omar_quraishi) 10 January 2018
Yes, her plea is uniting voices against the crime…
I am from India and am in tears listening this. Didnt knew about what this was before watching. I felt helplessness of anchor. May no child in world have to suffer this.#JusticeForZainab

— LALIT SHARMA (@LALITSHARMAHP) January 10, 2018
But all this will be in vain if the man who did those terrible things to Zainab is not caught. Hopefully, justice will be served. And soon.