India is set to experience superior strength at sea with its newly acquired INS Visakhapatnam, which is the first in its class of stealth guided missile destroyers and also the biggest that will the Indian Navy will own till date.
1. Eight BrahMos anti-ship missiles are to be installed on the ship after it is ready. BrahMos is a supersonic cruise missile developed jointly by Russia and India's Defence Research and Development Organisation.
2. The Barak 8 missile will be park of the stealth destroyer, including INS Kolkata and Visakhapatnam. There will be 32 Barak-8 Long Range Surface to Air Missiles (LR-SAM). Barak-8 is being jointly developed by Israel and India.
3. One other Israeli equipment that will be fitted onboard this 163 metre long ship – the Multi Function Surveillance Threat Alert Radar (MF-STAR). This system will provide targeting information to Barak-8 missiles.
4. Except the machinery compartment, the rest of the warship will have a Total Atmosphere Control System. This system will enable the crew to operate the ship in regions of nuclear, chemical or biological fall out. Those working in the machinery section will have to wear specialised suits and masks to keep the destroyer moving.
5. The AK-630 Close-In Weapon System will be fitted on the bow or the front side of this 7,300 tonne ship.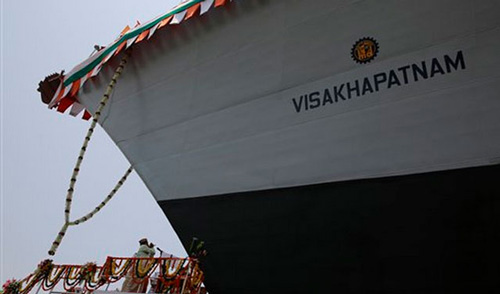 6. Twin tube torpedo launchers and rocket launchers have been developed indigenously and it will add punch to the ship's anti-submarine capability.
7. Other systems that will be in place on commissioning will include network centricity with Ship Data Network (SDN), Automatic Power Management System (APMS), Combat Management System (CMS) and Integrated Platform Management System (IPMS).
8. Turbines that will be fitted have been built by Ukraine, and are Zorya gas turbines.
9. Stealth features of this latest warship are better than its previous versions as the shape of the hull and radar transparent deck fittings will make it difficult for the enemy to detect INS Visakhapatnam.
10. The Rail less helo traversing system will be introduced on its deck for better handling of the helicopters. The vessel will be able to carry and operate two multiple role helicopters during its missions.
11. INS Visakhapatnam is a 65 percent indigenous vessel and 11 of the weapons and sensor systems that will become part of the stealth destroyer will be indigenous.
The indigenous weapon content of the ship constitutes Torpedo Tube Launcher, Rocket Launcher and an Integrated Power Management System built by L&T. A Close-in Weapon System built by Gun Shell Factory and Bharat Electronics Limited (BEL). BEL is also making the Bow Mounted Sonar to detect submarines and an Early Warning System called ELLORA.
12. Powered by four gas turbines, INS Visakhapatnam can cruise at speeds up to 30 knots. It will carry 1,000 tonnes of fuel giving it a range of 4,000 nautical miles.
News Source: DNA India
Cover Image Source: TIMES NOW