While marriages are celebrated widely, the topic of divorce has an immense stigma attached to it. In many Indian families, divorce is a hush-hush subject and is frowned upon, making it harder for women to walk out of an unhappy marriage.
However, a 45-year-old Indian woman living in the UK named Sonia Gupta threw herself a vibrant party after she got divorced. According to News18, she wanted to celebrate the end of a 17-year-old unhappy marriage with her friends and family.
Sonia got married in 2003. However, she and her husband were the complete opposite. She was fun and outgoing, while her husband had a calmer personality.
"We got married in India, then moved over to the UK. I became lost in the midst of my marriage and its cultural components, and I ended up being quite miserable for years," Sonia said.
The Republic quoted her adding:
"I just wanted to be myself again. Before my marriage, I was a very active and outgoing person, and after I got married, everything went to hell."
Sonia revealed how the news of her divorce didn't go down well with her family. But she found a strong support system in her friends. Even though the divorce process started in 2018, it was dragged for 3 years. But finally when she was "free", she decided to throw herself a divorce party.
"I selected the theme to be colourful, vibrant, and lots of unicorns because I am a really bright, colourful person. The theme was magic to me because, after the previous ten years, I believe I deserved a little bit of magic," she explained.
Visuals from the party show how everything was exactly how she wanted it to be.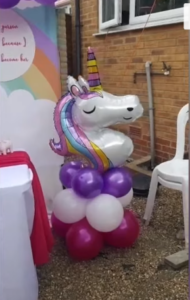 Here's a video from the party:
"People usually believe there's no life after divorce, and your life ends after that. But actually, mine has just started. I've learned so much in these years and have become a much stronger person. I always wanted the old me back. I feel free like I've managed to get out of prison and now I am truly living my best life," she said.
We wish Sonia strength and hope her life ahead is as colourful as the divorce party!