Sex Ed in India is as relevant as Craft Class in school, a clueless teacher wasted 50 minutes of your time talking about life, it had no relevance whatsoever to the subject at hand and if there was ever an exam about what you learned, you'd fail a million times over.
So it's safe to say, school had whatsoever nothing to do with your sex education, it came from porn, friends, the internet and your most trusted American Pie. But what happens when your parents feel like you are Jon Snow in the sex department and it's their job to teach you everything.
Well the Indian Parent Sex Talk doesn't happen too often but when it does, it leaves a scar of epic proportions,
1. 'Beta Pyaar Hona Chahiye'

Indian Parent Logic No 1: Sex can only occur in the presence of pyaar. When there is no pyaar, there is no sex. Which means sex is a subset of pyaar. Hence proved.
2. 'Kiss karne se bhi bache ho sakte hain'.

Indian Parent Logic No 2: Kissing leads to sex, sex leads to pregnancies, thus kissing leads to pregnancies. No wonder we're so good at math.
3. 'Sex sirf shaadi ke baad hota hai'

Indian Parent Logic No 3: Shaadi is a prerequisite of sex. Sex is unattainable like Mario Level 20055, unless you cross the Mandap level.
4. 'Sex sirf opposite gender ke saath hota hai'.
Indian Parent Logic No 4: The word Gay might go away as a concept if we pretend like it doesn't exist. You need Peepee for vajayjay and vice versa.
5. 'Sex is to be had with sharmili ladki on suhagrat'.
Indian Parent Logic No 5: Sex is not really sex until you raise a ghoonghat and drink milk before you get down and dirty. It is also considered futile if not had with a sharmili ladki inside a ghoonghat, surrounded by flowers.
6. Sex isn't for pleasure, it's only to further the Khandaan.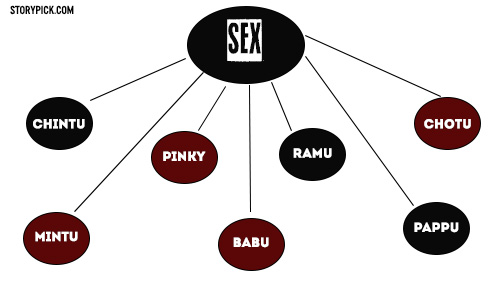 Indian Parent Logic No 6: Number of times you have sex= Number of children you have. No more, no less.
7. 'Jab maine tumhari maa ko pehli baar…'
Indian Parent Logic No 7:  No dad/mom, I don't want hear about how you consummated or how happy you are that you shouted 'Engineer' and 'Doctor' in the throes of passion, to make my career path what it is now.
8. 'Sharma ji ke bete ko 6 minutes lagte hain, tum saath minute lagana'
Indian Parent Logic 8: Always be yourself, unless you can be sharmaji's son. Then be sharmaji's son.
What's the closest your parents have gotten to sex talk?