Love is a powerful emotion transcends every trivial boundary, division, or separation. When you truly love someone, you try to make it work by facing the challenges together. And there is one person who didn't let his social status define the outcome of his love story.
Meet Dr. Pradyumna Kumar Mahanandia, who rode on a bicycle from India to Sweden to see his wife, Charlotte Von Schedvin.
In today's era of instant breakups and hookups, this love story will definitely steal your heart.
Who is Dr. Pradyumna Kumar Mahanandia?
He was born in 1949 in Orissa into a family that was considered untouchables. They supported themselves by weaving clothes. He was often derided and insulted because of his caste.
In 1971, he joined College of Arts in New Delhi. His passion for art and education always kept him motivated and he made stunning portraits, which made him quite famous.
How did he meet Charlotte Von Schedvin?
His popularity and talent swore new heights. It reached the 19-year-old Charlotte Von in London, who decided to come to India to get a portrait made by Pradyumna.
While making her portrait, Pradyumna fell in love with the beautiful Charlotte. She was impressed with his talent and felt an instant connection too.
And the love story began. Eventually, they got married according to the Hindu rituals.
Charlotte changed her name to Charulata. Charlotte had to go back to her country and thus, asked her husband to come along. But he was a student and so he decided not to accompany her. Instead, he promised her that he will come to see her.
She also sent him air tickets, but he refused and told that he'll meet her on his own. And thus, Charlotte left for Sweden.
Pradyumna wanted to meet his wife who lived in Sweden. But the lack of sufficient money was holding him back.
While they maintained their long-distance relationship and kept in touch through letters, this challenge did not deter him.
So, he did the unthinkable. He sold all his belongings and bought a second-hand bicycle.
And so, in 1978, he set out to travel to the Far West in the bicycle to see his wife! (Can you believe that?)
The journey from India to Sweden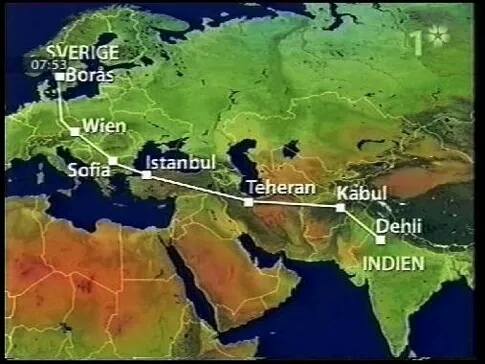 Pradyumna reached Amritsar from New Delhi and he cycled through Afghanistan, Iran, Turkey, Bulgaria, Yugoslavia, Germany, Austria and Denmark.
He had to face many challenges too. His cycle broke down multiple times and he had to go without food for some days.
After 4 months and 3 weeks of constant cycling, he reached Gothenburg, Sweden. Upon reaching, the Swedish immigration officers questioned him. They were amazed and skeptical when they heard the reason behind his journey.
This made Pradyumna a little skeptical. He was not sure whether his wife would accept him…
But then when Charlotte came to know about a man who had cycled all the way from India, she was elated! She drove to Gothenburg and received her husband. Her parents accepted Pradyumna as a part of their family.
And so they lived happily ever after!
Dr. PK Mahanandia is the Odiya Cultural Ambassador of India to Sweden. he is happily married for 40 years and lives with his wife and 2 children in Sweden.
He is still known to be a famous artist in Sweden.
Isn't this amazing? This could be the perfect example of love transcending all boundaries and challenges!
Because, if you want to live together with your loved one, you will ALWAYS find a way. Period. 🙂
News Source: Facebook
Images source: Facebook