Frequently we find news of celeb divorces popping up on our social media feeds. That makes us look around a little, and we see that marriages are literally falling apart these days! Marriages are decreasing in popularity while divorce rates are skyrocketing.
But quite shockingly, a study submitted by Unified Lawyers reveals that India has the lowest divorce rate in the world. Only 1% of Indian marriages end in divorce.
#Divorce Rate by Country: The World's 10 Most and Least Divorced Nations #India the lowest divorce rate …hmm!https://t.co/HXwva76NFp pic.twitter.com/Gw0uYuWE6K

— Samir Saran (@samirsaran) January 30, 2019
According to reports, divorce cases in India happen in "love marriages" as compared to "arranged marriages" at most times.
The study also shows that according to religion, Hindus have the least number of divorces while Christians have the most at 37%.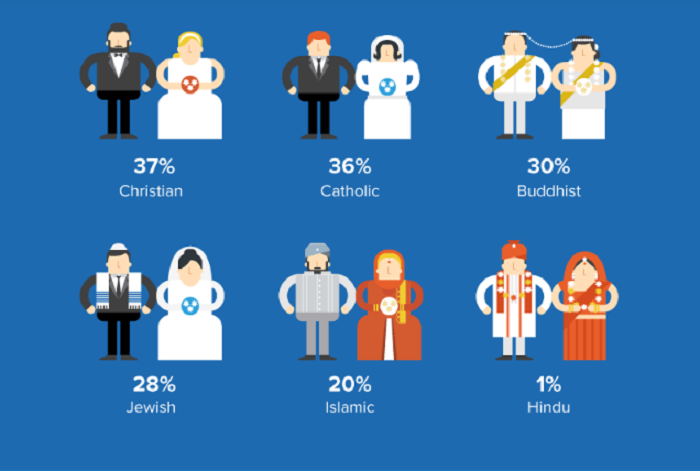 "Indians abide by the principles of Hindu, which suggests a 'one man, one woman' policy. Indian weddings, no matter the religion, take months of pre-marital rituals and a lot more days before the actual wedding. The whole 'marriage process', with the parents of both parties involved, establishes a psychological bond between the couple."
Though this study might be a reason to rejoice, Netizens were quick to find the irony behind the stats and has since stirred a debate!
India, the land of unhappy marriages https://t.co/bZYT7fS3g5

— Shivam Vij (@DilliDurAst) January 31, 2019
Low divorce rate can mean the other way round too.
Indian women's are not empowered that much that they can take such actions and are being suppressed continuously.#JustSaying

— Shiv 🏳️‍🌈🔗 (@Shhhhhhiv) January 31, 2019
The Indian women do suffer in bad marriages because they do not have financial independence. Look around factfully and you will be surprised.

— Sanjay (@Sanjay14978981) January 31, 2019
https://twitter.com/vibhaath/status/1091034534769033216
Interesting stats BUT 1% of India = literally population of Luxembourg, I guess 😜

— TwittingSnake (@SnakeTwitting) January 31, 2019
Hopefully, we Indians can take the right message from this, which is that our divorce rates are unhealthily low. Hopefully, we can move to a system where people don't feel compelled to stay in unhealthy, unhappy marriages due to social and financial pressures. https://t.co/4vUuK2eyZG

— Reuben Abraham (@nebuer42) January 31, 2019
Indian society frowns upon separation and Indian judicial system instead of upholding individual liberty forces couples to live together unless it is 'convinced' that a case for divorce exists – allowing abusive partners to keep their victims in vicinity. It is a criminal system. https://t.co/oKhqK6Bf92

— Ifra Jan (@IfraJan_) January 31, 2019
High Divorce rate can be interpreted as people's empowerment to take decisions on their life and less culturally and socially obliged https://t.co/2N0Z93YHMq

— rukesh veera (@rukeshveera) January 31, 2019
Could be more to do with NO #financialIndependence, especially of women from poor families!

The social cage is another matter to consider. https://t.co/54Mv4kQJUU

— urban hermit (@urbanhermit7) January 31, 2019
While the lowest divorce rate may seem flattering to some, this just shows that every morning most Indians wake up with the famous "log kya kahenge?" feeling in their minds that they throw away their happiness and sense of peace into the garbage along with vegetable peels.