It is officially our 73rd Independence Day this year. Freedom and liberty are the most precious gifts that weren't bestowed upon us, but won by scores of wise men and women decades ago! Our freedom fighters won liberty for our country with their hard work, sacrifices and above all, their unity.
We observe Independence Day not just to celebrate our freedom but also to honor the sacrifices and efforts of the legendary leaders. Right from their actions to their words, everything about our freedom fighters like Mahatma Gandhi, Bhagat Singh, Rani Laxmi Bai among others, is inspiring.
Let's have a look at some inspiring quotes by the real heroes of our nation that will make the Hindustani in you proud!
Jawaharlal Nehru
"We live in a wonderful world that is full of beauty, charm and adventure. There is no end to the adventures that we can have if only we seek them with our eyes open."
Chandrashekhar Azad
"We will face the bullets of the enemy, for we are free and will remain free."
Rani Laxmi Bai
"If defeated and killed on the field of battle, we shall surely earn eternal glory and salvation."
Lala Lajpat Rai
"We must have complete faith in ourselves. We can be successful only if we believe in our efforts."Nations are made by themselves". We can Take guidance, cooperation, and advice in certain matters but not patronage and diction in all the matters. We are not children but a mature nation with the wisdom of 6000 years behind us."
Lokmanya Tilak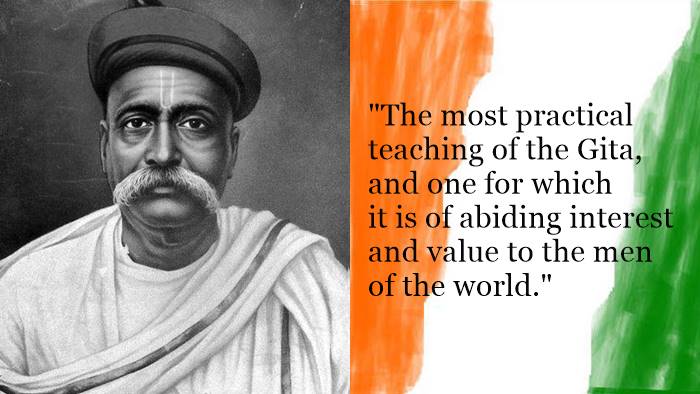 "The most practical teaching of the Gita, and one for which it is of abiding interest and value to the men of the world with whom life is a series of struggles is not to give way to any morbid sentimentality when duty demands sternness and the boldness to face terrible things."
Birsa Munda
"Give up drinking rice-beer and liquor.
For this reason our land drifts away.
Drunkenness and sleep are no good.
The enemies laugh at us.
The beer distilled from fermented rice stinks.
A person's body and spirit too decay likewise."
Mahatma Gandhi
"Freedom is not worth having if it does not include the freedom to make mistakes."
Veer Savarkar
"Oh Motherland, sacrifice for you is like life, living without you is like death!"
Bhagat Singh
"They may kill me, but they cannot kill my ideas. They can crush my body, but they will not be able to crush my spirit."
Annie Besant
"Better remain silent, better not even think if you are not prepared to act."
Rajendra Prasad
"In attaining our ideals, our means should be as pure as the end!"
Gopal Krishna Gokhale
"What the country needs most at the present moment is a spirit of self-sacrifice on the part of our educated young men, and they may take it from me that they cannot spend their lives in a better cause than raising the moral and intellectual level of their unhappy low castes and promoting their well-being."
Dr. BR Ambedkar
"So as long as you do not achieve social liberty, whatever freedom is provided by the law is of no avail to you."
Mangal Pandey
"This is the fight for freedom, freedom from yesterday, for tomorrow!"
Sarojini Naidu
"We want deeper sincerity of motive, a greater courage in speech and earnestness in action."
Ram Prasad Bismil
"Even if I have to face death a thousand times for the sake of my Motherland, I shall not be sorry. Oh, Lord! Grant me a hundred births in India."
Sardar Vallabh Bhai Patel
"My only desire is that India should be a good producer and no one should be hungry, shedding tears for food in the country."
Subhash Chandra Bose
"We should have but one desire today – the desire to die so that India may live – the desire to face a martyr's death, so that the path to freedom may be paved with the martyr's blood."
Maulana Abul Kalam Azad
"Slavery is worst even if it bears beautiful names."
Kasturba Gandhi
"We must become the change we want to see."
Wish you all a Happy Independence Day!