What comes to your mind when you hear the words 'Test Drive'? Visiting a car dealership, listening to the technical lecture of the salesperson, then driving a car while the salesperson still blabbers right next to you. Doesn't sound interesting, does it?
But what I am about to show you may change your definition of a test drive forever. We're talking about IGNIS Test Drive Challenge.
IGNIS is not like other cars, and I'm not saying it just for the sake of saying it. Let me show you why.
The launch of the car was done with an incredible EDM concert.
Yup, that's right. The concert was held on 13th January where Axwell, popular Swedish DJ, record producer and remixer rocked the night like there's no tomorrow. The world renowned EDM DJ was also a member of 'Swedish House Mafia', which is an electro music group. They have performed in India before too.
The theme of 'Electronation' was kept keeping in mind the 'millennials' and their undying spirit.
Wild interactive sessions like the musical car concept, where people created music by interacting with the car
Apart from that, Ignis has left no stone unturned when it comes to making this car perfect for the millennials. From brilliant safety features like dual front airbags, ABS (anti-lock brakes), Pre-tensioners seat belts and pedestrian safety as part of the standard equipment even in the base Sigma variant, the car has also taken forward the trend of personalisation.
Crazy associations with super cool bands.
Just when you thought that it can't get cooler than Axwell.
And…wait for it…a live gaming test drive!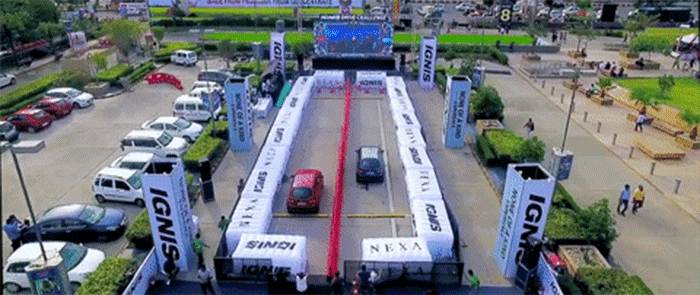 Confused? IGNIS believes in breaking the conventions. So, their test drive was not "Here's the key. Go check out the car." drive. It was a live game operated through two actual IGNIS cars, with real people in it!
The air hockey game was displayed on a huge screen outside Phoenix MarketCity mall. But instead of rackets, you had the 2 IGNIS cars on the screen which were supposed to hit the ball on the other side.
Where's the twist?
Those two cars were controlled by two real life IGNIS which were parked right in front of the screen and had motion sensors. That way, the test drivers could experience the car's acceleration, throttle response, braking abilities and the ease of using the Auto Gear Shift transmission.
How cool is that?
Cars can be boring if you're not an automobile enthusiast, kudos to the team behind the Ignis Drive Challenge, you've got our attention.
IGNIS makes head turn. Infact, if you don't look back at your car after you park it, you own the wrong car.
---
This story is brought to you in association with IGNIS