We constantly see many people complaining about their roads, localities, etc. not being clean enough. But to think that it is solely the duty of cleaners and rag pickers is a mistake. After having seen instances like an Indian railway passenger who complained of a compartment filled with trash or how a New Jersey Street got littered with Diwali crackers, we can't help but say 'clean your own mess'!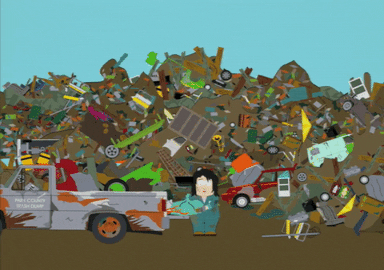 Echoing this concern, a Twitter user posted photographs of the condition of his state Himachal after borders were re-opened for tourism post lockdown. Trails of garbage can be seen littered by the tourists. Check out his tweet here:-
After Opening borders for Tourist in Himachal, what we should say now? pic.twitter.com/ikbCCBCiyV

— Siddharth Bakaria (@Sidbakaria) September 22, 2020
Other residents of the state responded with their own photographs, calling out the careless behavior of such tourists:-
Pictures from Mal Devta from this weekend. This is the cost of tourism thr residents of hill states pay. Make no mistake though, we are to be equally blamed. https://t.co/xWSBXiONyt pic.twitter.com/9pSuV6gOcS

— Neha Joshi (@The_NehaJoshi) September 22, 2020
On that I was highly disappointed to see this only few weeks back. @Sidbakaria we need to address this else i fear our state might convert to a dumping ground 😔😔 pic.twitter.com/zDe3odwlBy

— Sk (@pahadanladki) September 22, 2020
— Jayant Bhatt 🇮🇳 (@jayantbhatt007) September 22, 2020
ये सात ताल के पास है मेरा दिमाग खराब हो जाता है ये सब देख के 😡। पहाड़ी लोग ज्यादा है सीधे होते है इनमें एकता की कमी है कोई ऐसा करे तो टोकते भी नहीं। इन सब सैलानियों को भागा देना चाहिए या प्रतिबंध लगा देना चाहिए अगर गंदगी फैलाते पाए गए तो 😥 pic.twitter.com/jef83juNKE

— Jayant Bhatt 🇮🇳 (@jayantbhatt007) September 22, 2020
Criticizing the apathy some tourists have when it comes to respecting the cleanliness of the environment, here are some of the reactions people had, including Bollywood actress Yami Gautam who called for stricter laws and penalties:-
Hoping for stricter laws & such people need to be seriously penalised for doing this. It's high time, tourists need to start respecting the very State they resort to for seeking leisure. I urge the localities also to pull up such 'tourists', if they spot anyone doing the same. https://t.co/M8XzyWCQbQ

— Yami Gautam (@yamigautam) September 22, 2020
Natural tendency of Indians is to litter any place they visit. Tourism destinations in India should shut doors to domestic 'tourists'. In any case, Indian tourists pinch pennies, spend next to nothing while on 'holiday'. They add zero value to local economy other than garbage. https://t.co/ZRUm0sJrHD

— Kanchan Gupta (@KanchanGupta) September 22, 2020
Shame! Along with screening for Covid19, all those entering Himachal Pradesh should be read/given the anti-littering guidelines. @jairamthakurbjp @CMOFFICEHP @mygovhimachal @himachalpolice https://t.co/JRTiKlFI0E

— Makarand R Paranjape (@MakrandParanspe) September 22, 2020
Disgrace. Sometimes Human act worse than animals https://t.co/D8hSf0mnqy

— Prateek som (@Prateeksom2) September 22, 2020
This is what tourists do to Himachal Pradesh, Uttarakhand and most other hill stations. Why act so foolish, uneducated and dumb? https://t.co/3hxavAFfus

— Aditya Raj Kaul (@AdityaRajKaul) September 22, 2020
Aren't single use plastics banned in HP? https://t.co/5U43UbY2Ma

— Shefali Vaidya. (@ShefVaidya) September 22, 2020
Just when I thought pandemic has taught us enough how we should treat nature and there are enough woke people in our country, I see this. Sigh https://t.co/xJcrpBM981

— Sudipta Panja (@sudipta_panja12) September 22, 2020
Common problem with tourists all over not just Himachal. Some people just don't change. It is a shame that we have such nalayaks in 21st century.

— AR (@ashishraval) September 22, 2020
Erawan national park in Kanchanaburi, Thailand takes a deposit of ~Rs 50 for each plastic bottle that you carry with you inside the park, which is fully refunded only if you show the bottles on your return. Effective practice India must also adopt, wherever possible!

— Rohan Singh Battoo (@rohansbattoo) September 22, 2020
How to tackle waste in the hills:

1. Carry your own bag and keep all your plastic waste there, ideally bring it back to the city as no waste mgmt in hills.
2. Avoid Maggi, lays, all packet food.
3. Buy your own reusable water bottle. We should all have one now. #SwachhBharat https://t.co/SDNKnOnA2Y

— Kamya (Wandering Kamya) (@iamkamyabuch) September 22, 2020
Instead of mindlessly throwing waste anywhere on the ground, all we have to do is to find a dustbin, or pack it in a bag and keep it with us till we find a bin. Is that too much to ask for? Or maybe we should take a cue from this Thai National Park which ships the rubbish back to the tourists who litter the premises.
Have you too come across similar scenes of littering in your town? Share with us!